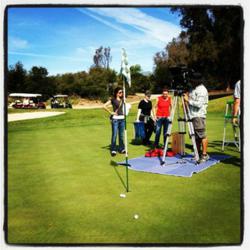 La Quinta, CA (PRWEB) March 14, 2013
Historic and world-renowned Ojai Valley Inn & Spa has strategically launched a Point7West produced marketing video for the prestigious resort's championship golf course. The 30-second broadcast commercial will be seen on multiple marketing platforms, including regional television across the nation, in presentations, on the web and in social media marketing. Capable of standing alone in promotion of the Ojai Valley Inn & Spa's golfing experience, the video also compliments a Point7West developed video marketing campaign for the property.
Each video has been produced as strong independent assets for marketing specific elements of Ojai Valley Inn & Spa's luxurious charm and amenities. The Ojai Golf video joins this strong video marketing campaign comprised of a three-minute video profile showcasing the resort's amenities ranging from sweeping scenes of its grounds to the property's exquisite architecture and unrelenting opulence; a two-minute promotional video revealing Casa Elar, Ojai Valley Inn & Spa's extravagant vacation residence; and a two and a half-minute video for business group opportunities. Combined, the marketing videos illustrate the elegance and prominence of the property with a complete visual experience of the ultimate destination.
Ojai Valley Inn & Spa is a 5-Diamond historic resort, famously known for its luxurious lifestyle offerings. Established in 1923, the resort is nestled 75 miles northwest of Los Angeles, California, and has served some of the world's biggest celebrities since the golden age of cinema. The 90-year old championship golf course was one of the first great golf courses in Southern California and has entertained golf enthusiasts from Bing Crosby and Bob Hope, to Will Smith and Kevin Costner. The Ojai Valley Inn & Spa Golf Course has hosted seven Senior PGA Tour events featuring legends such as Arnold Palmer, Lee Trevino, Gary Player, Tom Weiskopf, Chi Chi Rodriguez, and Ben Crenshaw, among others.
About Point7West
Point7West is a marketing video production company that has specialized in providing strategic video solutions for over 250 companies nationally and abroad, for more than a decade. Point7West produces award-winning, creative videos for business and other organizations in a wide range of industries.