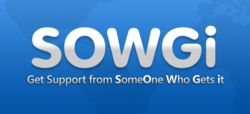 As the SOWGi network grows, this is the type of positive change we hope to inspire. Matthew Stein
New York, NY (PRWEB) March 14, 2013
New York based social networking startup SOWGi.com had their first public beta release today after several months of operating in stealth. SOWGi is a social network specifically designed for individuals who are interested in helping to create a more empathetic and compassionate world through sharing love and support.
The concept of SOWGi is simple. Life is filled with challenging experiences and we all go through our ups and downs. While those challenges may seem unique to us as individuals, in reality there is someone else in the world who is likely going through or has gone through something very similar. In other words, SomeOne Who Gets it! This is how the founding team came up with the name for SOWGi as an acronym for the phrase "SomeOne Who Gets it".
SOWGi is a global social support network that provides an environment where bonds between friends can be strengthened, new relationships can be formed and life's many challenges can be resolved from the simple act of sharing our love and life experiences with one another. SOWGi is unique in its approach to providing its members with a platform to share their personal challenges by offering them the ability to post as themselves or anonymously (if something is too personal). Members can request support when they need it most or be willing to help others with a difficulty they are facing. There is no better reward in life than the feeling you get when you help someone in need.
According to the Mayo Clinic, a social support networking is made up of friends, family and peers and provide us the comfort of knowing that someone is there for us when we need them. Having a strong social support system in one's life has even proven to improve mental and physical health in certain studies.
With the initial private beta release, SOWGi has shown itself to be an ideal place for people that are interested in creating meaningful connections, sharing their valuable advice, experiences and ideas. The connections being formed between the members of SOWGi consistently reach a deeper emotional level than you might see on some of the other major social networks.
By opening up the social network for public use, Matthew Stein and the founding team are all excited for the amazing new connections soon to be formed and the invaluable experiences to be shared.
"Imagine a world where Facebook, with all its 1 billion users, was created for the purpose of bringing people together to help each other. The amount of social change this would cause throughout the world would be immeasurable." said SOWGi co-founder, Matthew Stein. "As the SOWGi network grows, this is the type of positive change we hope to inspire. In fact, it is our intention to cause a SOWGi movement, where people are more empathetic and treat each other with more love and compassion.
The founders just have one final question for you, "Are you SomeOne Who Gets it?"
Find out and sign up at SOWGi.com
For any further questions or information contact:
Matthew Stein
Matthew.Stein(at)SOWGi(dot)com
(516) 633-2764