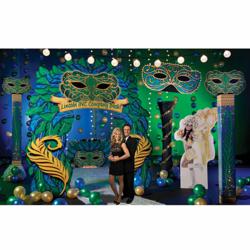 (PRWEB) March 13, 2013
Prom committees are usually on the lookout for new themes and this year is no exception.
It's a challenging quest, but Shindigz, a leading supplier of party and event decorations, is aware of several new prom themes that are trending this spring. Prom advisors and students don't have to settle for just any prom theme when they have Shindigz for inspiration.
"Traditional high school prom themes like 'Rendezvous on Bourbon Street,' 'Glimmer of Hollywood,' and 'Midnight in Paris' are always good standbys," according to Keith Bansemer, Director of Internet Marketing for Shindigz. "But it's the new theme twists that make a class stand out and create memories that high school students will cherish for a lifetime."
Here's what Shindigz has whipped up for 2013.
Diamond Studded Affair – If it's spangles and bangles the committee craves, the "Diamond Studded Affair" party kit has the allure for expensive look trending this year. This kit includes columns that shimmer and shine like silver leaf and onyx, a standee covered with rhinestones, and a faux diamond as big as Plymouth Rock. Forget diamonds in the rough. With Shindigz party supplies and prom favors, every prom-goer is a precious gem!
Game Night – There's nothing old-fashioned about board games. They're the hottest properties in Hollywood right now and Shindigz has exclusive, party kits and prom components inspired by such ever-hot Hasbro board games as Monopoly, Candy Land and Clue. Teens pay tribute to the beloved board games of their youth while putting their own sophisticated spin on the proceedings. Being young and playing games is cool this spring.
Romance in Rio – Romance and Rio go together like cookies and cream. The Brazilian city is legendary for its exemplary nightlife, its vibrant energy, and its Carnival. Shindigz' Rio-themed party decorations and prom favors turn any prom venue into a Brazilian street party. More and more students are escaping to warmth this spring.
Fairytale Dreams – Each teenager's idea of a fairy tale prom is a little bit different, which is why it's a good thing that Shindigz offers so many ways to bring that fairy tale to life. A collection of fairy-tale-themed decorations, tableware and prom favors are just what the fairy godmother ordered. Whether a teenager's fairy tale dreams were inspired by storybooks or animated movies, trending this year are the adornments to deck out those dreams.
Murder Mystery Prom— With no fewer than two "Sherlock Holmes" TV series on the tube and no less a star than Robert Downey Jr. playing "The Great Detective," murder mysteries are trendier than ever. "The game's afoot!" when Shindigz is supplying the prom decorations and prom favors. With this theme gracing a prom, the trail of clues always leads to romance.
About Shindigz
Shindigz "makes life more fun" for students through its online, personalized, prom supplies store. It ships products from its facilities in South Whitley, Indiana across the United States and around the world to 59 countries. With more than 34,000 products, it's been providing customers with complete party solutions since 1926. For more prom theme ideas visit Shindigz.com.