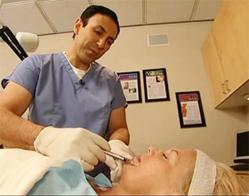 Los Angeles, CA (PRWEB) March 14, 2013
According to a March 11, 2013 Fox News article, reality TV star Kim Kardashian underwent a vampire facial on a recent episode of her series, "Kourtney and Kim Take Miami". (Go to: goo.gl/LyN1b)
The vampire facial, also known as a blood facial, involves using platelets from the patient's own blood to rejuvenate the skin. During this medical procedure the physician extracts blood from the patient's arm, separates the platelets with a spinning device, and then uses a special instrument that has nine tiny needles to inject the extracted blood back into the face.
"I certainly understand the desire to look younger," says Dr. Simon Ourian, Medical Director of Epione Beverly Hills. "Though the photos accompanying the article certainly appear extreme, the procedure is still considered minimally invasive. That said, I'm still waiting for more long-term data before I offer the blood facial to my patients."
The purpose of the vampire facial is to improve the quality and appearance of the skin by harnessing the rejuvenative power of Platelet Rich Plasma or PRP. The platelets contain growth factors that are thought to stimulate collagen growth and revitalize the skin. The blood facial is minimally-invasive and can be performed in a quick visit to the doctor's office.
Kardashian, like many others, is apparently willing to try out interesting or controversial treatments in order to hold on to a youthful look. Kardashian didn't appear to mind having her own blood splashed on her face on national television in order to achieve the desired results. Her face was left dripping bright red with blood during the treatment as the doctor injected the small needles into the surface of her skin.
"To date, as far as I'm aware, there's been only anecdotal evidence of the blood facial's effectiveness," concludes Dr. Ourian. "I'll reserve judgment until there is data available from long-term, independent research."
Dr. Ourian has been a pioneer in laser technology and non-invasive aesthetic procedures including Restylane, Juvéderm, Radiesse and Sculptra. These treatments are used for the correction or reversal of a variety of conditions such as acne, acne scars, skin discoloration, wrinkles, stretch marks, varicose veins, cellulite, and others. More information about the Kim Kardashian's vampire facial can be found on Epione's website.