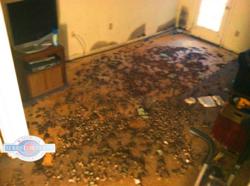 In most cases ... fast work at a low cost is hardly the way one would want to put their home back together in the wake of one of the most devastating storms the East Coast has ever witnessed.
Mount Laurel, NJ (PRWEB) March 14, 2013
In February of 2013, Congressmen from New York addressed an "emerging crisis" that victims of Hurricane Sandy are still enduring, almost six months after the super storm ravaged their homes and lives. Both publicly and privately funded groups weighed in on the situation as well, promising that millions of dollars raised would be used to fight the impending epidemic. The topic causing such a stir? Mold.
In October of 2012, waters and wind raged past windows and doors, ravaging the once serene neighborhood many residents called home. Powerless homes provided no means of communication to stranded tenants. The storm called Hurricane Sandy ripped away portions of roofing and siding and turned living rooms into a three-feet-deep pools of messy sea water and scum. The squall completely destroyed prominent places of business, leaving families without regular income for months. Crews barreled through the borders of once proud seaside towns, now shells of what they used to be, fixing homes fast, at a low cost to the home owner and their insurance companies.
In most cases, though, fast work at a low cost is hardly the way one would want to put their home back together in the wake of one of the most devastating storms the East Coast has ever witnessed. A company like SI Restoration, who serves every state affected by Sandy, has over twenty years of experience in Water Damage and Mold Remediation. Effects of Hurricane Sandy were felt as far inland as the suburbs of Philadelphia, Pennsylvania – over 100 miles away from the New Jersey coastline, a coastline brutally abbreviated and destroyed.
Now, almost six months after residents all over New York, New Jersey, Delaware and Virginia had seemingly picked up the pieces and moved on from this Tempest of Tragedy, new developments have emerged proving that using shifty repair methods at low costs could very well prove even more disastrous than Hurricane Sandy itself. People affected by mold damage have very little resources to turn to. Federal funding is available through the Federal Emergency Management Agency, provided mold is visible when inspectors assess the damaged properties in question. The issue with coastal residents affected by Sandy is that, in most cases, the mold did not grow until well after inspectors left their homes.
Relief to residents in neighboring states came when representatives in New York announced that almost $2 billion dollars in federal funding, along with private donations, would back a local effort to eradicate mold in the New York area. As of March 2013, plans are already in motion to treat 2,000 homes severely infected with mold thanks to the Mayor's Fund to Advance New York City, the American Red Cross, and the Robin Hood Foundation.
Mold is a silent attacker, its spores blossom exponentially to create colonies of fungi that make air harmful to breathe and, in some cases, toxic. According to the World Health Organization, moldy conditions could cause wheezing and coughing in the healthiest of its victims. And what about those who are unhealthy? Depending on the type of mold growth, people with weakened immune systems due to poor health, radiation and chemotherapy treatments, and patients suffering from other immune deficiencies are subject to serious side effects. SI Restoration has the ability refurbish any affected area still damp and prone to mold growth due to quick fixes and low-cost mishaps.
Tips on how to battle mold and its side effects can be hard to find. Finding the right source to inform and fix the problem is an even more daunting task. Before entrusting someone to rebuild a home the right way, homeowners must ensure the proper credentials and certifications are in order. Estimators, inspectors and service providers should have a track record of service that is trustworthy. Take the time to ensure you are getting the right company for the job. After all, the safety of families all along the East Coast depends on it.
Mold growth in New York can be very different from colonies spurned in Virginia. Residents of New Jersey may encounter different mold situations than their neighboring states. Residents of New Jersey, one of the most devastated areas of the storm, should prioritize educating themselves on mold removal. Mold unaddressed in the home can severely affect one's quality of life.
The waters have subsided and the winds are calm and refreshing. Communities have been rebuilt with the help and support of your friends, family and neighbors. Hurricane Sandy took a lot away. However, victims can also say that the storm brought something with it as well. It brought awareness and a humbling enlightenment about the safety and security of homes along with East Coast. Whether the dangers come in the form of winds and rain, or mold and mildew, being cognizant and prepared of dangers big and small has never been more prevalent than now.