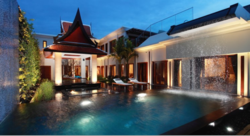 Phuket, Thailand (PRWEB) March 15, 2013
Haute Living is pleased to present Maikhao Dream Villa Resort & Spa, Maikhao as an exclusive Haute Hotel member. When seeking out the best hotels to feature on the Haute Hotel Network. Haute Living selects unique and stunning properties that only offer top tier luxury accommodations, amenities, and exceptional service.
Nestled on the northwest coast of the Island, Maikhao Dream Villa Resort & Spa, Maikhao blends in perfectly with Phuket's natural beauty where the warm turquoise sea caresses the golden sand of Maikhao Beach. With its elegant interior design, the resort is a perfect vacation haven created for ultimate comfort and relaxation. Maikhao Dream Villa Resort & Spa, Maikhao exceeds expectation. Haute Living is honored to have Maikhao Dream Villa Resort & Spa, Maikhao featured on the Haute Hotel Network.
About Haute Hotel Network
The Haute Hotel Network is an exclusive, invitation-only membership circle featuring a limited number of hotels and resorts from each of the top U.S. and international markets. Haute Living Network connects affluent audiences with the luxury lodging and hospitality establishments selected as the finest in their specific region. Invitations to the Haute Hotel Network are only extended to hotels and resorts with exceptional amenities and a proven service record that meets only the highest standards. To learn more about the Haute Hotel Network, or view any of our amazing hotel properties follow this link: http://www.hautehotel.com/
About Maikhao Dream Villa Resort & Spa, Maikhao
Maikhao Dream Co. Ltd. owns and manages two five-star premium boutique properties in Thailand. The company is led by hospitality professionals that are inspired by the local culture and natural resources in providing a high level of authentic Thai hospitality and quality accommodation for the discerning travelers who look for private and exclusive destinations as their holiday home.
Maikhao Dream Villa Resort & Spa is only a 15-minute drive from Phuket International Airport. It is strategically tucked away in a tropical surrounding among tall swaying coconut trees providing a quiet escape from the hustle and bustle of the city. Chauffeur services are available for hire for visits to the most popular attractions and places of interest around Phuket.
Each of villas at Maikhao Dream Villa Resort & Spa occupies a minimum area of 5,000 square feet (465 square meters) featuring an outdoor wooden terrace, with a pool, jacuzzi and a Chic Thai Sala. Indulge yourself in the comfort of the outsized bedrooms, plush linen, goose-down pillows and organic pristine bedding. Relax in the spacious bathrooms with separate rain shower areas and hot tub with jets for two, which boast breathtaking views of Maikhao Beach. Premium bath amenities and exotic in-villa aroma oils are carefully selected to tease your senses. A well-appointed kitchenette incorporates state-of-the-art electric hob, wine cabinet, family size refrigerator, and coffee and tea facilities. The dining table is neatly decorated with the finest chinaware, glassware and tableware to ensure an enjoyable in-villa dining experience. The living room with its refined decor creates a cozy and homely atmosphere, and is perfect for laid-back evenings. The villa's outdoor Sala is an ideal space for private BBQ dinners by the pool with family and friends. LED television, computer, fax and data ports, multiline telephones with voicemail, and wireless Internet are available to cater for your needs.
Relish the selection of luxurious dining destinations and pamper your senses for a gastronomic experience like no other. The dining options include Dokbua, all day dining restaurant, Wine Cellar, Poolside bar and Dream Bar or simply enjoy a BBQ in the privacy of your own villa. Maikhao Dream Spa offers a variety of spa treatment to rejuvenate your body and soul. This romantic retreat combines both artistic Thai design and modern comfort exuding a sense of pure relaxation and tranquility.
Other facilities include the outdoor pool, kid's club and a fitness center. Enjoy a multitude of superb amenities, various entertainments and recreational activities with us: sightseeing, yachting and cruising on Maikhao Dream Luxury Boat, shopping, excursions, tennis or world class golf course which is just a 10-minute drive from the Resort.
To Learn More: Visit Maikhao Dream Villa Resort & Spa, Maikhao Haute Hotel Profile