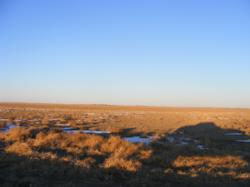 (Buyers) have the opportunity to purchase great Cheyenne County farm acreage at the price of their choosing
Kansas City, MO (PRWEB) March 14, 2013
Qualified buyers will have the opportunity to purchase a home on roughly 1,696 acres of Colorado farmland at the price of their choosing. Because this property is being auctioned without reserve, the property will be sold to the highest bidder regardless of price.
Rocking X Land Company, LTD, in conjunction with Flock Auctions, LLC, (both headquartered in Burlington, Colo.) will conduct this live auction at 10 a.m. at the Cheyenne County Fairgrounds located at W. 6th St. S. in Cheyenne Wells, Colo. Registration for this event begins at 9 a.m.
This acreage will be offered in five separate tracts or as a whole. The parcels range from approximately 311 to 448 in size. The land features dryland, grain sorghum, wheat stubble and winter wheat and is also suitable for cropland, sunflowers and more.
"Our seller recognizes the value of using an accelerated method of marketing – in other words, an auction – to sell their property," said Scott White, associate broker with United Country – Rocking X Land Company, LTD. "What does this mean for buyers? It means they have the opportunity to purchase great Cheyenne County farm acreage at the price of their choosing. Today's market conditions and the auction format allow sellers and buyers to come to a meeting of the minds quickly with a competitively achieved fair market value. In times like these, an auction is the best way to establish what real market value is."
Detailed information about the property for sale, as well as terms and conditions, can be found online at ColoradoFarmAuction.com, by calling 719-340-0063, or by email at
rxl(at)centurytel(dot)net.
About United Country
United Country Real Estate is the largest fully integrated network of conventional and auction real estate professionals in the United States and Latin America. The company has been an innovator in real estate marketing since 1925. United Country supports nearly 550 offices across the U.S., Costa Rica, Panama and resort areas of Mexico, with a unique, comprehensive marketing program that includes one of the largest portfolios of property marketing websites (more than 3,500 separate sites and traffic of approximately 3 million visitors per month), multiple United Country real estate catalogs and third-party lifestyle magazines with national distribution , an extensive buyer database and other national advertising of local properties that reaches more than 90 million homes per week. United Country has recently been recognized by Franchise Business Review, AllBusiness.com, The Land Report, Entrepreneur and The Wall Street Journal as one of the top U.S. real estate companies.