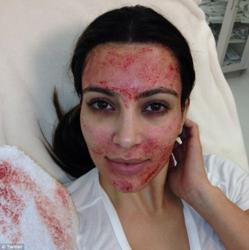 (PRWEB) March 15, 2013
Kim Kardashian went through an age-defying procedure called a "Vampire Facial" which involved the use of her 'blood' and it was filmed for her reality show – Kourtney and Kim Take Miami. The vampire facial is a designer procedure that uses cutting edge technology in which the body's own blood is applied topically to the skin and then pounding it with needles to re-energize cells for a youthful appearance.
Kim Kardashian, 32, said she's willing to try "anything that makes you look and feel youthful" on her reality show, and boy, did she ever. Over 90% of peculiarmagazine readers polled said the facial was crazy, not cool! Read on for an exclusive interviews with plastic surgeons to further explain Kim's crazy move.
Dr. Jeffrey Spiegel, Board Certified Facial Plastic Surgeon in Boston, MA, explains the basics:
"The procedure is performed by drawing some blood, typically from the arm, and it is then prepared by mixing with certain chemicals and spinning it in a centrifuge to produce something called platelet rich fibrin matrix. Only about the equivalent of 2 teaspoons of blood is needed. This produces then produces a gelatinous material that can be injected into the face."
To feel more comfortable, Dr. Spiegal says you can use local anesthesia to numb the face.
Do Blood Facials Work?
Does this "vampire facial" actually work? "The effects are reduced fine lines and wrinkles, probably due to the volume of material injected in. The results should be visible very quickly but will fade in a few days. Then, you hope to see some slower overall improvement in the next few weeks," Dr. Spiegal says.
And it's not for the squeamish – it takes almost an hour and feels like needles in your face (because is it).
"It takes approximately 45 minutes from the time of blood drawing to the injection. It will feel the same as a filler type injections, such as Restylane, Juvederm and Radiesse," says Dr. Theodore Diktaban, MD, FACS, Double Board Certified Plastic Surgeon.
Another Expert Weighs In On The Vampire Facial
Dr. James Marotta is a dual Board Certified Facial Plastic Surgeon who owns Marotta Facial Plastic Surgery on Long Island.
He admits that procedures usually see an increase after celebrities get them. "Celebrities are often admired and followed. If someone sees that Kim Kardashian received a Vampire Facial and was happy with the results, they are more likely to believe that this procedure is worthwhile. This is the same reason that companies have celebrities endorse their products — people tend to take notice of what they do and follow suit."
Just like any medical treatment, there are pros and cons.
"Benefits — patients can see a stimulation in collagen production with more volume in the face. Fine lines and wrinkles are temporarily plumped and the face/neck looks fuller and more youthful. Drawbacks — the process can be painful and pricey. Additionally, the patient will experience bruising and soreness."
Kim already looks great…but in Hollywood, it's never enough.