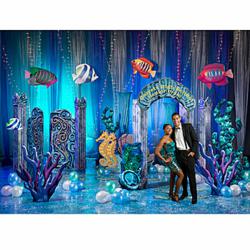 South Whitley, IN (PRWEB) March 14, 2013
In 2013, prom themes aren't limited to such old standbys as "A Night to Remember" or "Hawaiian Luau." Old standbys are too old hat for the most important day in a millennial teenager's life.
Students and schools can be as creative as they want to be thanks to the considerable assistance of Stumps, a prom party company based in South Whitley, Indiana.
"Selecting a unique prom theme goes a long way towards creating a night of magical memories that lasts a lifetime," says Jacquie Downey, Director of Sales & Marketing at Stumps. "Every year, it's interesting to see what high school students are purchasing as they plan for the biggest night of their teen years."
Whether it's complete prom themes or prom decorations that can be assembled into themes, Stumps has the tools students need to let their imaginations run wild.
Here are some of this year's trending prom themes according to Stumps:
Clue Murder Mystery – Was it Colonel Mustard in the lounge with a candlestick? Or, was it Miss Scarlett on the dance floor doing the Harlem Shake? The Clue board game remains as popular as ever and the Clue Murder Mystery kit offers a prom theme that is both familiar and fresh.
A Glimmer of Hollywood – Several hundred million people worldwide watch the Academy awards telecast every year. Despite changes in the technology of watching movies, the glamour of Tinseltown apparently never gets old. Teenagers may never get a chance to bask in the Hollywood limelight but that doesn't mean they can't catch a glimmer of Hollywood. The "A Glimmer of Hollywood" party kit can turn any prom into a red carpet event.
Make Dreams Come True – A handsome prince, a royal carriage, a grand staircase…
These are the elements of many classic fairy tales. They are also the sorts of things a teenage girl thinks about when she imagines her ideal prom experience. Because castles and royal carriages are in short supply in the real world, the Make Dreams Come True party kit offers the complete storybook experience.
The only item that isn't included is the handsome prince, but planning committees will find glass slipper centerpieces at Stumps. Purists may also want to bring a pumpkin for when the clock (included) strikes midnight.
Midnight in Paris – Speaking of midnight, even people who have visited Paris don't necessarily stay up late enough to experience midnight in Paris. Whether one has visited the City of Lights or is a night owl, the Midnight in Paris party kit keeps guest awake. It includes a Parisian skyline and a 14-foot- tall Eiffel tower.
This is the sort of prom theme that will allow any young man to turn to his date at the end of the night and say with conviction, "We'll always have Paris."
Lost City of Atlantis – Why have "Enchantment Under the Sea" when you can have the "Lost City of Atlantis?"
The "Lost City of Atlantis" party kit is the opposite of all wet. Despite years of being missing in action, Atlantis turns out to be hopping place with a seahorse-drawn chariot and large colorful fish that seem to exist for the sole purpose of adding to the overall festiveness.
About Stumps Party
Since 1926, Stumps Party's prom catalogs have been welcomed by teachers and prom committees in schools throughout the United States. Those catalogs are now online at StumpsParty.com. With more than 36,000 products, Stumps offers every item that schools need for this year's prom. For prom themes and prom supplies, visit StumpsParty.com.