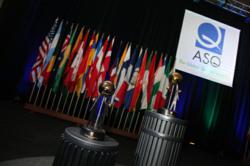 Milwaukee, WI (PRWEB) March 14, 2013
ASQ, the world's largest network of quality resources and experts, has announced 32 global teams from 10 countries as finalists in the 28th annual International Team Excellence Awards Process. The teams will be part of the quality impact sessions/live team case study presentations May 6-8, 2013, at ASQ's Annual World Conference on Quality and Improvement at the Indiana Convention Center, Indianapolis, Ind.
Teams representing a broad spectrum of industries including manufacturing, service, education, healthcare, and government will vie for the coveted ASQ Gold, Silver and Bronze Level Awards.
Winners will be announced during an awards ceremony Wednesday, May 8, and will serve as benchmarks of organizational excellence in all industries for years to come. The finalists' projects showcase creative, innovative solutions and organizational cost savings. Conference attendees can observe team project presentations that demonstrate the real-life application of quality tools to achieve valuable business results.
The following finalists have been invited to participate in the 2013 International Team Excellence Award Process. Their project summaries can be found here.
Education
•National University of Singapore – Singapore, Singapore
•Ramaiah Institute of Management Studies, Bangalore, Karnataka, India
•Singapore Polytechnic – Singapore, Singapore
Government
•Colorado Department of Transportation – Denver, Colo.
•Housing & Development Board – Singapore, Singapore
•Ministry of Defence (MINDEF) – Singapore, Singapore
•U.S. Naval Ship Repair Facility and Japan RMC – Yokosuka, AP, Japan
Healthcare
•Baxter Healthcare Corporation – Deerfield, Ill.
Manufacturing

Anheuser-Busch InBev – Quilmes, Buenos Aires, Argentina
•Boeing – Long Beach, Calif.
•The Coca-Cola Company – Atlanta, Ga.
•Continental Guadalajara – Tlajomulco de Zuñiga, Jalisco, Mexico
•General Motors – Milford, Mich.
•Humana RightSourceRx – Glendale, Ariz.
•Mallinckrodt Pharmaceuticals – St. Louis, Mo.
•Oshkosh Defense, LVSR Leak Reduction Team – Oshkosh, Wis.
•Reliance Industries Ltd. – Bharuch, Gujarat, India
•Reliance Industries Ltd. Hazira – Surat, Gujarat, India
•SE Blades Limited, A Suzlon Group Company – Pune, Maharashtra, India
•Yanfeng Visteon Automotive Electronics Co., Ltd – Shanghai, Shanghai, China
Service
•CitiPower/Powercor – Melbourne, Victoria, Australia
•Genpact – Gurgaon – Haryana, India (two teams)
•Max Life Insurance Co. Ltd. – Gurgaon, Haryana, India
•Nokia HERE, Location Content – Chicago, Ill.
•Pruksa Real Estate Public Company Limited – Bangkok, Thailand (two teams)
•Telefonica Argentina – Buenos Aires, Ciudad Autónoma de Buenos Aires, Argentina
•TELUS – Burnaby, British Columbia, Canada
•Vanguard – Malvern, Pa. (two teams)
•Wipro BPO – New Delhi, Delhi, India
Since 1985, more than 1,000 teams from Argentina, Australia, Brazil, Canada, China, Costa Rica, Colombia, Guatemala, Germany, India, Japan, Mexico, Philippines, South Korea, Singapore, Thailand, United Arab Emirates and the United States have participated in this team recognition process—the only one of its kind in the United States. Organizations such as 3M, Alcoa, Bayer, Boeing, Ford, General Motors, Humana, Reliance Industries Ltd., the largest business enterprise in India, and Telefonica, a major cell phone operator in Argentina, have all showcased proven results with long-term implications, resulting in cost savings of billions of dollars.
Conference keynotes
Keynote speakers at this year's ASQ World Conference on Quality and Improvement, at which the International Team Excellence Awards takes place, include:
•Daniel H. Pink – Author of New York Times best-seller A Whole New Mind and New York Times No. 1 best-seller Drive, The Surprising Truth About What Motivates Us, Pink goes beyond "carrot and stick" motivators to the deeply human needs that drive us to live, learn, create new things and do better by others.
•James Melton – A nationally renowned modern-day philosopher with unique insights on how people can achieve higher levels of professional and personal satisfaction, Melton is the author of Reaching New Heights of Excellence. He offers leadership, management and future trends training for many Fortune 500 companies.
•Jamais Cascio – Selected by Foreign Policy magazine as one of its top 100 global thinkers, Cascio specializes in the design and creation of plausible scenarios for the future. He speaks about emerging issues and future possibilities around the world.
•Sally Hogshead – International author and personal branding expert, Hogshead provides insights on how to break through distractions and competition by creating moments of intense focus.
About ASQ
ASQ is a global community of people dedicated to quality who share the ideas and tools that make our world work better. With millions of individual and organizational members of the community in 150 countries, ASQ has the reputation and reach to bring together the diverse quality champions who are transforming the world's corporations, organizations and communities to meet tomorrow's critical challenges. ASQ is headquartered in Milwaukee, Wis., with national service centers in China, India and Mexico. Learn more about ASQ's members, mission, technologies and training at ASQ