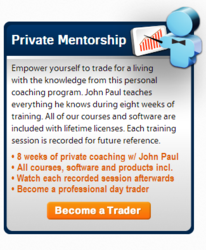 I want to tell you, all the YouTube videos is what sold me on wanting you to be my instructor. You always take your time and explain things and are very respectful to all your students. Thank you for allowing me to be a student!
- Wayne B.
(PRWEB) March 14, 2013
Day Trade to Win, the world's leading trading educator, has announced enrollment for the next Group Mentorship Program. This educational trading course is conducted by Day Trade to Win's founder, John Paul, for eight consecutive weeks. The next session begins March 28, 2013 but new classes are available every six to eight weeks. Register today while space is still available.
During each training session, John Paul shares his charts live via the web. Students see his charts and ask questions while each trading methods is explained. Group Mentorship was designed to fulfill the needs of both beginner and advanced traders. The techniques taught are not offered in anywhere else on the web. Instead of using conventional indicators or relying on software, instruction focuses on teaching traders how to recognize price action patterns. By the end of the eight weeks, students know exactly how to handle anything the markets throw at them on a daily basis. Each week, John Paul reviews the material from the previous week in addition to teaching new material. A new session of Group Mentorship usually begins every six to eight weeks. Individual Mentorship, one-on-one education with John Paul is also offered and can begin at any time. For details on these educational programs, including days and times, call Day Trade to Win at 888-607-0008 or email at support(at)daytradetowin(dot)com. Additionally, you can find out more by visiting the Mentorship page.
Here is a guideline of what is covered in the Group and Individual Mentorship Programs:
Week 1 – Training includes setting up NinjaTrader, the basics of trading, ATO (at the Open), Power ATO Trading Method, and Chase the Trade. A digital course book and ATO NinjaTrader software are provided.
Week 2 – Training includes Price Action Scalping and the Blueprint Method (Power Price Action). A digital course book for Price Action Scalping and its NinjaTrader software are provided.
Week 3 – Training includes The Trade Scalper and the Roadmap Method. A digital course book for The Trade Scalper and its NinjaTrader software are provided. The Roadmap software is also provided for NinjaTrader.
Week 4 – Training includes Filtering Trades, Trading the News, and Using the ABC Method.
Week 5 – Training includes the Atlas Line, combining all methods taught thus far and filtering with the Atlas Line. The Atlas Line software is provided for NinjaTrader.
Week 6 – Training includes the X-5 Method (Floor Trader Secrets Manual).
Week 7 & 8 – In the final two weeks, training combines and reviews all of the methods with application on multiple trading days and current day and how to approach all methods as one trading plan.
All courses and software are provided with lifetime licenses. Ongoing email support is also offered. Remote assistance is provided if students need help getting charts, software or courses installed and working properly.
To improve the educational process, John Paul and his team provide students with a free copy of NinjaTrader trading software and an accompanying real-time data feed. This real-time feed connects students to the world's most popular futures and currency markets, such as the E-Mini S&P, Euro FX, and Crude Oil. The feed also allows students to see the fluctuating prices of these markets form as candlesticks and place simulated trades. Placing simulated trades is also called "paper trading." Being able to see live data from markets through candlesticks and trading based on the candlesticks is exactly the approach John Paul teaches – price action. By practicing trading this way, students come as close to real trading as possible without the risk of a brokered (real money) account.
Additional sources of benefit to students are the recorded videos. John Paul records each training session. Each video recording is uploaded to private student accounts on the Day Trade to Win website. At the student's leisure, he or she may log in to view the recordings to reinforce understanding of the methods. Such review is very important to the educational process. Videos from previous Group Mentorship Programs that took place years ago are still available to those students.
Day Trade to Win has long been at the forefront of trading education. Since 2008, its courses have been offered, starting with the ATO, then offering the Atlas Line, Power Price Action methods and Mentorship Programs progressively. On a regular basis, John Paul produces videos showing his methods in action on live charts, published the results of his Atlas Line software, and provided the trading community with free downloads and free trading methods.
Because some traders need extra attention or have demanding schedules, John Paul also offers Individual Mentorship. Individual Mentorship is one-on-one with John Paul for eight weeks. It includes all of the same instruction and material as Group Mentorship. A main advantage is flexibility – Day Trade to Win can work around your availability. Additionally, you can communicate with John Paul via Skype directly – voice chat and ask questions just like you are on a phone call.
For more information, visit http://daytradetowin.com or call 888-607-0008. Feel free to email support(at)daytradetowin(dot)com with questions.