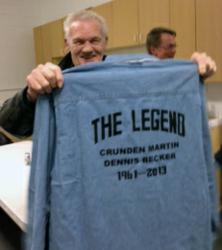 Dennis Becker began his working career during JFK's first year in the White House and the year Alan Shepard became the first American in space.
Sauget, Illinois (St. Louis metro area) (PRWEB) March 18, 2013
Long-time employee Dennis Becker recently retired from pick & pack provider FW Warehousing after working 52 years at its Crunden Martin warehouse. Early this month, FW threw a party in celebration of Becker's retirement and to honor his years of loyal service, according to Mark Cusumano, President and CEO of FW Warehousing.
"Dennis has been a valuable member of our Crunden Martin team since the early 1990s when Fresh (now FW) purchased our warehouse in the Crunden Martin complex," said Cusumano. "However, Dennis' connection to the Crunden facility and his work history there go back much farther … all the way back to 1961 when the building was still owned by Frank Crunden and Dennis was just a teenager." Located in Chauteau's Landing, an industrial district just south of the Arch grounds in downtown St. Louis, the Crunden Martin Manufacturing Company produced a wide variety of metal and wooden goods for almost 100 years in its seven building complex until the firm's closing in 1990.
With such a long, distinguished career working at one facility, it's not surprising that Becker's nickname is "The Legend". His employment at the Crunden Martin facility has spanned the terms of 10 U.S. Presidents, from John F. Kennedy to Barrack Obama. When he started his career in 1961, electric typewriters and carbon paper were still state-of-the art technology and astronaut Alan Shepard became the first American in space. Personal computers wouldn't start appearing in the workplace for another 20 years. Cell phones wouldn't be commonplace for another 30 years. Smart phones, tablets and wireless networks were still 40 years away. In many ways, it was a very different world. In 1961, a gallon of gasoline cost 27 cents. The average cost of a new car was $2,850 and the average worker in the U.S. earned $5,315 per year. And, throughout all those years and the many changes they brought, Becker was on the job at the Crunden Martin warehouse.
FW Warehousing was founded in 1949 with a focus on providing professional warehousing and distribution services for food additives and packaged food. Later, the firm expanded to offer a full range of third-party logistics services, including pick & pack services, for food and food-grade materials, as well as general merchandise and hazardous chemicals. Based in the St. Louis metropolitan area in Sauget, Illinois, FW currently operates warehouse distribution centers in three Midwest states, Missouri, Illinois and Indiana, totaling more than 3 million square feet. The firm has been ranked in the top 100 Third Party Logistic Companies in the country by Inbound Logistics magazine.
For more information about FW Warehousing's pick and pack services, visit the Pick & Pack page of the FW Warehousing web site. Also see FW Warehousing's About Us and Services pages.