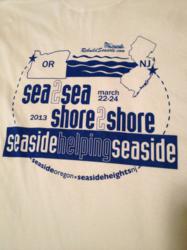 "When I watched the broadcasts of the roller coaster in the ocean, the boardwalk obliterated, and all the devastation on the Eastern coastline, I knew I had to do something," ~ Gail Hand
Portland Oregon (PRWEB) March 14, 2013
Gail Hand, a Portland-based Author and Motivational Speaker, has created and is mobilizing "Seaside Helping Seaside," a coast to coast fundraiser to help rebuild Seaside Heights, New Jersey after the impact of Hurricane Sandy.
With the help of several Seaside and Portland businesses, Seaside Mayor Don Larson, Seaside Rotary Foundation, Seaside Chamber of Commerce, and Seaside Downtown Development Commission, friends and citizens of Seaside, Oregon are raising money to help build a new entrance complete with fresh landscaping and a new sign sporting the Seaside Heights, New Jersey signature carousel horse.
Gail asked Bill Akers, Mayor of Seaside Heights, NJ what was needed so that Seaside, Oregon could raise funds for something substantial in helping rebuild his town before summer. She wanted to have people make a tax deductible donation that goes directly to the town of Seaside Heights to help them rebuild their Hurricane Sandy ravaged community.
Don Larson, Mayor of Seaside, Oregon said, "we may be almost 3,000 miles away but we are so similar in our resiliency! Oregon knows what it is to have a disaster and connecting two Seaside towns from coast to coast by reaching out to help them rebuild something was Gail's initial goal." The Oregon and Washington coastline are still seeing devastation from the Japan Tsunami.
"Like many transplanted New Yorkers who grew up on East Coast beaches, when I watched the broadcasts of the roller coaster in the ocean, the boardwalk obliterated, and all the devastation on the Eastern coastline, it hit home and I knew I had to do something," said Gail.
Seaside, OR is a city of over 6,000 people that swells to over 50,000 in the summer -- much like Seaside Heights NJ whose population of 3,500 swells to over 65,000 each summer.
"Like Seaside Heights, New Jersey -- Seaside, Oregon has a strong Rotary Club of local businesses, a carousel, a big arcade and many restaurants and shops. People love to run, walk their dogs and watch the waves from the promenade, much like Seaside, New Jersey's boardwalk. There are parades through town everyone looks forward to all year. Both communities enjoy their traditional celebrations," said Gail.
Michael Graichen, Public Relations Director of Seaside Heights, NJ said, "Our town needs a lot of help to get all of our original traditions back. We are so appreciative of the efforts of Seaside Helping Seaside."
Seaside Helping Seaside Upcoming Fundraising Events:
Friday March 22, 7:00 pm -10:00 pm Sunset Parks Aquatic Center
A family friendly Rock 'n Swim and team obstacle course like "Wipeout" with great prizes to win. Entry is $5 per person and includes one entry to the competition.
Saturday March 23rd, 1:00 pm -3:00 pm
Sunset Empire Park & Recreation District
Seaside Skate 'n Ride Park on Broadway
Skate competition with great prizes
Entry fee is $5 Registration at the pool.
Sunday, March 24th
5:00 pm – 7:00 pm
Bob Chisholm Center
1225 Ave 'A', Seaside OR
Pancake dinner, Silent and Live Auction for vacations, food, and activities.
$5 per person, $8 per couple and $14 for a family of four.
How to help Seaside Helping Seaside:
Donate online to Seaside Helping Seaside at: http://www.bit.ly/seasiderocks
Donate by check:
Seaside Rotary Foundation
P.O. Box 634
Seaside, OR 97138
Please mark your check: Seaside helping Seaside!
All Donations are tax deductible
To volunteer please contact gailhand(at)gmail(dot)com
http://gailhand.com