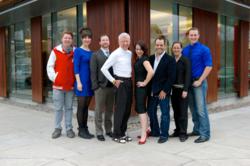 "We have a lot of fun here and we seek business opportunities and partners that inspire us to come into work each day," says co-owner Allison McCormick
Portland, OR (PRWEB) March 14, 2013
The stakes are pulled, the tents are rolled and the troupe of public relations professionals at AM:PM PR has relocated its "greatest show in PR" to a new home at the LEED-Platinum-certified Cyrk Building(1) at SE Clinton Street in Portland, Oregon.
"Cyrk" is the Polish word for circus, an homage to the vintage Polish circus posters(2) lining the halls of their new building. But the word "circus" is also symbolic to the often death-defying juggling role of the strategic public relations and communication professional. With untraditional job titles like ringmaster, fortune teller, tightrope walker, lion tamer and magician – AM:PM PR has perhaps the most accurate job titles in the public relations industry.
"We have a lot of fun here and we seek business opportunities and partners that inspire us to come into work each day," says co-owner Allison McCormick (or the "AM" in AM:PM PR). Her father and co-owner, Pat McCormick, is the "PM" in AM:PM PR.
Allison says her team performed extensive research to choose an office and a neighborhood with an eco-centric and creative atmosphere(3) where employees could use public transportation, walk or ride their bikes to work, and with cafes and restaurants within walking distance.
___________________________
(1) Ninety percent of the Cyrk building's energy supply comes from the solar array on its roof, and the building uses a groundwater heat pump for efficient heating and cooling. AM:PM PR's office features Ipe wood doors and sunscreens reclaimed from a near-century-old redwood sawmill in California to complement the sustainable and reclaimed wood that developers EENW used in the construction of the Cyrk building. The patio features native plants and reclaims stormwater runoff.
(2) In postwar Poland, posters were plastered on the ubiquitous wooden fences that hid bombed out buildings and new construction. Fences became the people's museums and galleries. Posters became the art of the streets. The most popular were circus posters, including some that decorate the halls of the Cyrk building. With Poland under the thumb of the Soviet Union, Cyrk posters often had a subversive tone, using commonly understood metaphors to communicate hidden messages and political commentary.
(3) AM:PM PR has made artistic adaptations to match the creative vibe of its new SE Clinton neighborhood. The office features a large 4' x 16' mural hand-painted by local Portland artist Gary Hirsch, and art by Portlandia's art director Chris Haberman.
AM:PM PR is a Portland-based public relations firm representing clients in the food and beverage, real estate, technology, education, retail, agriculture and natural resources industries. The three-year-old firm provides clients with strategic counsel in crisis communications, product marketing, community relations, issues management, social networking and media outreach services.