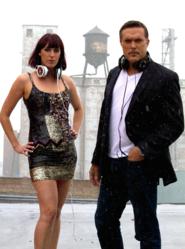 Currently unsigned and looking for representation, (We Are) Nexus will be in attendance at Winter Music Conference in Miami March 18-23, 2013. Please contact them at info@wearenexusedm.com
Chicago, IL (PRWEB) March 14, 2013
What did our parents tell us all when we were growing up? Most likely it was along the lines of: go to school, find a good job, you should look into med school! Generally speaking, sound advice. However, for some, the pursuit of art and the insatiable appetite to raise the bar despite the safe job wins in the end.
Enter (We Are) Nexus and their insatiable appetite for Electronic Dance Music (EDM). This new, unsigned duo has been receiving some rave reviews about their music, but this is not their first rodeo.
For Nick Gunn, Nexus producer and composer, it is anything but. Hailing from a highly successful career in world music, Gunn has sold over two million copies of his 14 albums and also owned and operated a label distributed by one of the majors, Warner / ADA.
"I started when I was so young in the industry. I was self producing my own music in my late teens and entering into record deals in my early twenties. It's been an awesome ride so far, but I'm now just entering by stride" says Gunn. "When I look at what I really want to do musically now, its EDM!"
EDM is fast becoming one of the largest music markets in the world. With a forward thinking business model that utilizes and makes sense of the current state of the music business, this should come as little surprise.
Thus it's no wonder Gunn's interests lie here. "I've always been a huge fan of the genre, but it's more than just that. There are sounds and mixes coming out of EDM that are setting trends for the way we hear music and the way we share music. It's a playground for experimentation and it's simply awesome."
Carmen Rainier, Gunn's partner and the vocalist / lyricist behind the duo, could not agree more: "What falls under the genre of Electronic Dance Music is vast and varied.
There are sub genres upon sub genres, and new talent emerging daily. While this can create more quantity over quality, it helps to keep the sub genres broad and fresh with an anything goes attitude. And the way independent artists have tackled self-promotion, utilizing social media and building viral connections and a sense of interconnectivity with their listeners is amazing."
With three singles under their belts- Broken, Sound of the Beat, and the brand new Enjoy the Fall--the duo are doing all the right things to get themselves out there and be heard.
Currently unsigned and looking for representation, (We Are) Nexus will be in attendance at Winter Music Conference in Miami March 18-23, 2013. You can expect to find them on the streets along with their sponsor Scosche, attending music workshops, and rocking the night scene all week long.
To learn more and/or connect with (We Are) Nexus, you can reach out to them at: info(at)wearenexusedm(dot)com