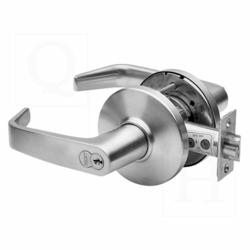 West Babylon, New York (PRWEB) March 13, 2013
Quality Door & Hardware, Inc. today announced the Best 93K Heavy Duty Cylindrical Lockset as a Quality Featured Product for March, 2013. The Best 93K Cylindrical Lock features an interchangeable core, which allows for quick re-keying and customized master keying. This interchangeable core permits the Best 93K heavy duty cylindrical lock to adapt, with no internal modifications, to cylinders from the following manufacturers: Corbin-Russwin, Medeco, Sargent, Schlage and Yale.
The Rose locking pin and rose assembly design of the Best 93k heavy duty cylindrical lock offers superior torque resistance, while preventing the locking pin from twisting, bending or breaking under severe strain. Further, the slotted key release cam and locking log assembly increases torque resistance and creates a fail-safe on the inside lever and fail-secure on the outside lever with a key override.
The Best 93k cylindrical lock is a truly heavy duty cylindrical lock. The chassis is composed of either brass or corrosive-treated steel; the lever handles are made of high quality zinc alloy; and the lever sleeve is a seamless one piece construction of hardened steel alloy, which provides additional reinforcement in the locking log slot.
Quality Door & Hardware invites you to visit its website at: http://www.QualityDoor.com to learn more about the Best 93K Heavy Duty Cylindrical Lockset and all of the other quality door hardware products featured on our e-commerce site. Quality Door & Hardware,Inc. has been a trusted resource in the commercial door hardware industry for more than 25 years and is known for its huge selection of product an unparalleled customer service. Come and experience firsthand, "the difference that 'Quality' can make in your business".