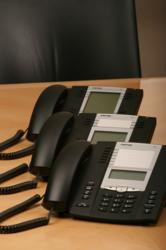 Research has shown that the time it takes to set up a single user and their phone can average two hours or more. OpEasy cuts that time down to just minutes.
Orlando, FL (PRWEB) March 18, 2013
Aastra facilitates rapid deployment of Unified Communications in the Cloud with the OpEasy® Productivity Suite for Clearspan®. OpEasy is a suite of applications which provides simplified provisioning, reporting and monitoring functions for the Clearspan solution, all accessed via a single, user-friendly web interface. Aastra will be demonstrating just how easy it is to move your voice communications to the Cloud at Enterprise Connect, March 18-21, 2013 at the Gaylord Palms in Orlando, FL.
OpEasy's applications enable faster deployment of unified communications – whether adding a single user or thousands of users, minimize training required for IT administrators, and allow administration to be distributed among various groups and departments if desired.
"The provisioning and deployment of users and their devices can consume an inordinate amount of time," stated Aastra's Tim Whittington, Regional President, North America. "Research has shown that the time it takes to set up a single user and their phone can average two hours or more. OpEasy cuts that time down to just minutes. Whether an organization is rolling out a new unified communications platform across the organization or simply adding recently hired employees, the OpEasy applications can result in significant resource savings."
OpEasy's provisioning applications are designed around the concept of user roles such as knowledge workers, administrative assistants and executives. OpEasy allows administrators to define user profiles, selecting a set of features common to that profile or role, as well as a telephone configuration template. Once these are defined, an administrator with little or no expertise with the UC platform enters non-technical data such as a user's name, phone number and location along with their specified user profile, and OpEasy does the rest. This setup can be done via an intuitive web portal, or an Excel spreadsheet for large deployments.
Once provisioning is complete, users will receive an email from OpEasy with their phone number and unique device identification code. They simply plug the phone in, enter their device ID and the phone connects to the network, automatically downloads the correct configuration and restarts itself. Within a few minutes, users have phone service personalized to their needs.
OpEasy uses a hierarchical model for defining administrator privileges, allowing organizations to distribute workload or retain administrative control as their policies dictate. Administrative roles can be defined at the System, Enterprise, Group and Department levels, as well as a Solution Reseller role that might administer a hosted offering or multiple enterprises.
A number of reports are available in OpEasy to track users, devices and system licenses, as well as to support the organization's billing needs. These reports can be viewed based on the various administrative authority levels that are implemented. Along with Provisioning and Reporting functions, OpEasy provides additional management features for System Administrators - all via a single interface - including monitoring of system traps, emergency gateway management, and the ability to create and customize administrative profiles.
OpEasy can be used along with Clearspan for a premise-based deployment, or as part of a cloud service. Either way, it allows organizations to save significant time and money implementing unified communications. For further information, visit http://www.aastrausa.com/opeasy or stop by Booth #601 at Enterprise Connect for a live demonstration.
– ### –
About Aastra USA
Aastra USA Inc. is the US business unit of Aastra Technologies Limited, a company at the forefront of the enterprise communication market. Headquartered in Concord, Ontario, Canada, Aastra develops and delivers innovative communications products and applications for businesses. Aastra's operations are truly global with more than 50 million installed lines around the world and a direct and indirect presence in more than 100 countries. Aastra is entirely dedicated to enterprise communications and offers IP telephony and Unified Communications solutions individually tailored to satisfy its customers' requirements. These range from feature-rich call managers for small and medium businesses and highly scalable ones for large enterprises, associated UC applications, integrated mobility, multimedia call center solutions and high definition video communications to a wide selection of desk phones and cordless terminals. With a strong focus on open standards, Aastra enables enterprises to communicate and collaborate more efficiently. For additional information on Aastra, visit our website at http://www.aastrausa.com.
About Enterprise Connect®
Enterprise Connect® (formerly VoiceCon) is the leading conference and exhibition in North America for enterprise communications and collaboration systems, software and services. Enterprise Connect® brings corporate IT decision makers together with the industry's suppliers, analysts and consultants to focus on the issues central to enterprise communications and collaboration networks. Enterprise Connect® owns and produces No Jitter, (http://www.nojitter.com/), providing daily blogging and analysis of enterprise communications, and it also serves the community with a weekly email newsletter, a Webinar Series and Virtual Events. For more information, visit http://enterpriseconnect.com/.