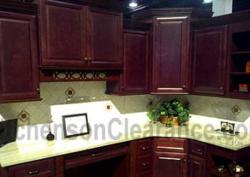 Miami, FL (PRWEB) March 14, 2013
With the housing recovery at the forefront of many people's minds throughout the country, discount retailer of kitchen remodeling materials, Kitchens On Clearance, is excited to announce the launch of a new program aimed at encouraging growth in the housing market. The program offers free shipping on all orders over $2,500.
The housing market took a tremendous hit in 2008, and despite reported gains in the industry over recent years, and particularly the last few months, it is still a slow climb for businesses associated with the industry.
CNN Money reported last week that January home sales jumped nearly 30% from the prior year, but there is still a great deal of growth needed to reach pre-recession home sales level. Also according to CNN, a rise in home prices is a great way for the entire economy to see a lift as well, as higher home prices mean more household wealth, which contributes greatly to overall consumer spending.
With these considerations in mind, Kitchens on Clearance is launching its free shipping program to encourage home remodeling projects that can lead to increase home sale prices.
"Now is a great time to encourage homeowners to complete remodeling projects that are going to raise the value of their homes, and help them in the real estate market," said a spokesperson from Kitchens On Clearance. "We're deeply rooted in the home and real estate market, and we want to see the industry make a full bounce-back, which will give the entire economy a boost, so we're dedicated to creating programs that are going to encourage the growth and recovery of the industry."
Kitchens on Clearance is an online retailer of discounted solid wood cabinets, as well as granite, knobs and other accessories used in kitchen remodeling projects. The company provides full-service remodeling and renovation projects, and will ship its deeply-discounted and wholesale-priced products throughout the United States, including Canada and the islands.