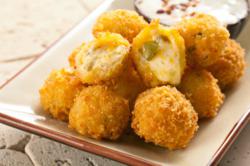 "We say that they are perfectly sized, perfectly priced and packed with flavor."
LUBBOCK, Texas (PRWEB) March 13, 2013
Abuelo's Mexican Restaurants today announced the company-wide introduction of its new "Tapas and Small Bites" menu category featuring six new, smaller portioned menu items starting at just $2.49.
"Abuelo's is always looking to enhance the creativity of our menu to better deliver what today's savvy consumer is seeking – variety, flavor and value," said Robert Lin, president of Food Concepts International, Abuelo's parent company. "We are excited to introduce these new smaller "tastes" which are big in flavor, but small in price. Chef Luis has once again created a delicious line up of exciting new flavors."
Abuelo's new "Tapas and Small Bites" range from $2.49 to $6.49 and include:

Jalapeño Cheese Fritters – Crispy on the outside, creamy on the inside. Deliciously delicate hand-breaded fritters, oozing with minced jalapeño and melted cheese. Served with ranch dressing.
Spinach Stuffed Mushrooms – Fresh, marinated mushrooms filled with Abuelo's creamy signature spinach casserole.
Sonoran Green Chile Cheese Crisp – Crispy, baked flour tortilla covered with melted cheese and diced Poblano and Anaheim chiles.
Mini Shrimp Cocktail – A spicy, individual-sized Mexican shrimp cocktail, layered over our cool, refreshing avocado cream. Served with crispy flour tortilla chips.
Bacon-Wrapped Stuffed Shrimp – Three wood-grilled, bacon-wrapped succulent shrimp stuffed with fresh jalapeño and blended cheeses.
Chicken and Spinach Mini Chimis – Two small chimichangas stuffed with tender, spicy chicken, spinach and cheese. Served with honey lime ancho cilantro sauce.
"Our new 'Tapas and Small Bites' are great for mixing, matching and sharing with friends and family – either as individual appetizers or as additions to a favorite entrée," added Lin. "We say that they are perfectly sized, perfectly priced and packed with flavor."
About Abuelo's
Since its first opening in 1989, Abuelo's has consistently been on the leading edge of Mexican cuisine, combining menu creativity, outstanding food and beverage quality, colorful plate presentations and superior service in an impressive Mexican courtyard-themed atmosphere. Owned and operated by Food Concepts International of Lubbock, Texas, Abuelo's has received national accolades as the top-ranked Mexican food restaurant and as one of America's top overall restaurant chains in three consecutive biennial surveys by a leading national consumer rating magazine. The company currently has 40 restaurants located in 15 states throughout the United States. The company's newest fast casual concept, Abuelo's Taqueria, is now open in Lubbock. For more information, visit http://www.abuelos.com or Abuelo's Facebook page at http://www.facebook.com/abuelos.
# # #
EDITORS NOTE: For high res photos of Abuelo's new Tapas & Small Bites items, please contact Melanie Carroll at melaniec(at)food-concepts(dot)com.