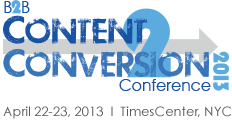 Attendees of the Content2Conversion Conference can expect a concise and actionable package guiding them through the content marketing and campaign execution process.
Hasbrouck Heights, NJ (PRWEB) March 14, 2013
Innovators in the world of B2B marketing will be participating as speakers and sponsors for the industry's second annual Content2Conversion Conference, produced by Demand Gen Report (DGR). Taking place April 22-23rd at the Times Center in Manhattan, the event is the B2B industry's only event solely dedicated to highlighting strategies and tactics to utilize content marketing for engaging and accelerating prospects.
Addressing the unique needs of B2B marketers, this year's C2C Conference will offer three Power Panels, comprised of the industry's most respected leaders, each targeted to planning content campaigns at specific stages of the buying cycle.
The "Keynote" Power Panel is a rare opportunity to hear from key figures in the field as they tackle questions every B2B marketer should be focused on answering. Ardath Albee, Joe Pulizzi and Ann Handley will deliver a comprehensive look at planning content strategy; deploying content in the right formats and amplifying content across all channels.
Attendees will also garner topical, expert insights on:

How to develop a content marketing blueprint that aligns with business objectives and target buyer's pain points
How to develop a nurturing strategy that's right for your campaign goals;
Understanding content's role across the buyer's journey;
How to use interactive and rich media to extend the life of content; and
Understanding the role of marketing automation and measurement as part of an overall content marketing strategy.
"One of the resounding compliments we received from last year's C2C Conference was that attendees walked away with a solid roadmap to start a content marketing strategy," said Andrew Gaffney, President of G3 Communications. "With this year's agenda, attendees can expect a more concise and actionable package guiding them through the content marketing and campaign execution process."
For a complete list of speakers, please click here.
In addition to hearing from top authors and thought leaders in the content space, the 2013 C2C Conference will also provide access to the latest tools and solution providers to help marketers plan and optimize their campaigns such as:
NetProspex is the smarter B2B data partner, helping lead generation professionals increase revenue impact through database management.
Bizo gives marketers instant access to the people who sign the checks at work, and have the most to spend on life: business professionals.
Kapost provides a Content Marketing Platform to enable brands to succeed as publishers.
ReadyTalk provides audio and web conferencing services that are highly reliable, affordable and easy to use, so users can focus on the meeting's substance rather than the technology behind it.
BlueBird Strategies is a demand generation firm that optimizes marketing automation to drive marketing success.
Vidyard is a video marketing platform that helps marketers drive results with video content.
Madison Logic is the leading provider of data powered lead solutions for B2B advertisers and online publishers.
True Influence is a software development company that helps marketers leverage technology to deliver the right message to the right person at the right time.
For a complete list of sponsors, please click here.
For information on learning more about 2013 Content2Conversion sponsorship opportunities, please contact Dana Harder at 224-578-2099, dana(at)gthreecom(dot)com or click here to visit the event website.
Hosted by DemandGen Report, the B2B Content2Conversion Conference is an educational daylong event focused on empowering B2B marketers with strategies for mapping, developing and utilizing content marketing to nurture the buyer relationship and enhance conversions. The event will be held Tuesday, April 22-23 in New York City at The Times Center.
About Demand Gen Report
Demand Gen Report (DGR), a division of G3 Communications, is a targeted e-media publication spotlighting the strategies and solutions that help Business-2-Business (B2B) companies better align sales, marketing and disparate teams to support growth and drive revenue. DGR content and news coverage focuses on the sales and marketing automation tools that enable companies to better measure and manage multichannel demand generation efforts. DemandGen Report is the only information source directly focused on this rapidly emerging business discipline.