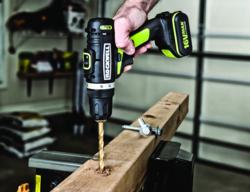 A"It's a factor tool users should consider before making their purchasing decisions," said Jeanne White, Rockwell senior product manager. "Rockwell's platform not only focuses on quality and performance, but value too."dd a quotable
Charlotte, NC (PRWEB) March 14, 2013
Rockwell's new 16V MaxLithium Drill/Driver and Impact Driver are compact, lightweight and powerful. Plus, Rockwell® is one of the only power tool company's where batteries are free for life, once the tool's warranty is registered.
Feature-packed, the Rockwell 16V Drill/Driver has a 3/8 in. keyless, single-sleeve chuck and a two-speed (0-400/0-1500, no-load rpm) gearbox. The 2.75 lb. drill/driver also has an auto spindle lock, 16-torque-setting clutch, forward/reverse button, LED work light and a low-battery-charge indicator. The tool's drilling capacity is 1 in. in wood and 3/8 in. in steel.
Great for deck building, Rockwell's 16V Impact Driver has a 1/4 in. hex chuck and an all-metal gearbox for durability and long life. The 2.5 lb. tool has no-load speeds of 0-2400 rpm and 0-3000 bpm and a variable-speed switch. A built-in LED work light illuminates the work area and a low-battery-charge indicator signals when it's time to swap batteries. Both tools also have a built-in belt hook for easy retrieval.
With so many power tool choices on the market today, why choose Rockwell? The cost of tool ownership should be a consideration in any purchasing decision. In a power tool's life, owning a Rockwell tool saves consumers on average between 40 to 70 percent, versus the cost of owning another manufacturer's tool.
Here's why. When shopping for a cordless tool, it's important to factor the cost of a replacement battery pack. Replacement battery packs' pricing varies widely depending on brand, voltage and type (NiCd, Lithium or other). Battery prices typically range from $30 to $100.
Experts suggest that depending on usage, many tool users may go through at least two battery packs in the life of a tool. Consider a $190 tool with a $99 replacement battery pack. Add two replacement batteries and the tool's real cost becomes $388.
It's not a new concept. Buy an ink jet printer at an office supply store and its real cost is in the total number of ink replacement cartridges purchased in the printer's life. Thinking of buying a nail gun; then start adding up the cost of replacement nails. You may find the figure eye popping.
"It's a factor tool users should consider before making their purchasing decisions," said Jeanne White, Rockwell senior product manager. "Rockwell's platform not only focuses on quality and performance, but value too."
When Rockwell's 16V Drill/Driver was tested against the leading major manufacturer's 12V tools, its 302 in. lbs. of torque matched or exceeded every other brand. The tool on a single battery charge outperformed the majors by driving more 1-5/8 in. drywall screws into 2 in. MDF board.
When the new Rockwell 16V Impact Driver went up against industry leading 12V tools, it outperformed them all. Take 7/8 in. self-tapping sheet metal screw and drive them into 1 in. MDF and see how many screws the tool drives on a single charge. Winner – Rockwell.
The Rockwell 16V Drill/Driver and 16V Impact Driver include two, 1.3 Ah batteries, a 30-minute charger, and carrying bag. The drill-driver also has a double-end screwdriver bit, while the impact driver includes a 2 in. screwdriver bit.
The Rockwell 16V Drill/Driver (RK2600K2, $139.99) and 16V Impact Driver (RK2611K2, $139.99) are through Menards, http://www.rockwelltools.com and other online websites, as well as regional hardware and home centers nationwide.
Editor's Note: Media Contact: MKM Communications at
847-255-1903 or mkmcomm(at)gmail(dot)com