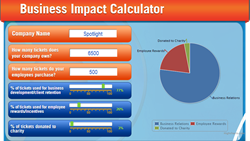 While companies spend over $20 billion globally on their sports and entertainment programs every year, due to the fun nature of this line item, companies do not always approach this expenditure with the seriousness it deserves
Calabasas, CA (PRWEB) March 14, 2013
SpotlightTMS, the leader in sports ticket management, has designed an easy-to-use online sports ticket calculator to assist corporations as they prepare for spring and summer inventory buys, including the upcoming MLB season, March Madness, the NBA playoffs, the Masters and more. The Spotlight Corporate Ticket Evaluator was designed to quickly show executives what they are spending, what they are wasting and just how much their tickets should be earning them.
"Whether you are in the C-Suite or the loading dock – everybody loves going to the game," says Tony Knopp, co-founder and CEO of Spotlight Ticket Management, whose company works with the largest corporations in the world on improved efficiency of their sports and entertainment ticket programs. "While companies spend over $20 billion globally on their sports and entertainment programs every year, due to the fun nature of this line item, companies do not always approach this expenditure with the seriousness it deserves, resulting in excessive waste."
Spotlight manages over 5 million sports tickets annually and found that over 40% of corporate-owned tickets go unused due to process inefficiencies. The ROI calculator helps underline these facts while highlighting the tax benefits, legal liability, and most importantly the business impact of all tickets, including sports, concerts, theater, and amusement parks, all in a matter of seconds.
According to Knopp, "Wasted tickets continue to be the biggest challenge for companies who invest in corporate sponsorships, luxury suites and bulk ticket buying. The free calculator tool is an easy way for companies to identify how to best use something as fun as a sports ticket program to generate serious returns."
For convenience, Spotlight has released both a simple and a detailed ROI calculator. Depending on how involved your company's ticket process is, simply input your ticket information and receive accurate quotes on savings, returns and important tax information.
About Spotlight Ticket Management
SpotlightTMS is where tickets mean business. Spotlight makes company tickets simple by enabling companies to measure the business impact of sports and entertainment assets while staying compliant.
Spotlight makes tickets available where the business user lives; whether in their CRM, Inbox, or through their team and venue partners. Spotlight partners with over 50 professional sports teams and venues as well as industry leading partners Salesforce.com and Concur. The company is based in Calabasas, CA.