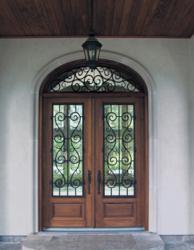 Their easy, new, navigable and striking website definitely brings a new user experience to the industry.
Tampa, FL (PRWEB) March 15, 2013
US Door and More Inc. opened for business in 2009 and have transformed the custom door industry. This company provides high quality products including interior doors, exterior doors, and custom designed entry doors. The company has obtained a number of awards nationally and internationally. An industry master craftsman with 30 plus years built the company, continually helping it to become stronger and distinguished since its inception. US Door and More Inc. would like to announce the launch of their improved website, http://www.doornmore.com/.
New and Improved website
Door and More has seen a full makeover, not only with the design but the architecture to make it attractive, usable, and better for customers. The new design was based on customers ensuring they could find the information and product information they want. It has been designed professionally with an eye towards attractive appearances. Already Door and More has received numerous accolades from visitor feedback.
Find helpful information easily
Comprehensive information for visitors of this new site is easily found, and they can leave with an understanding of pre-hung doors, entry and interior doors, slabs, and custom door considerations. The new website is based on educating visitors in a comprehensive manner about all products, services, technical information, showcases, door preparation and installation. The guides provided show the commitment Door and More Inc has towards educating visitors and customers and ensuring they locate high quality products.
Easy navigation
Door and More Inc. designed the website in a simple manner for visitor and customer navigation needs to showcase their extensive product range. All products are categorized based on more than whether they are interior doors, exterior doors, and French doors. They are listed under door model, style, home style, brands, energy star, hurricane ratings, product approvals and much more.
Customized doors
Doornmore.com stands apart from the competition because of their dedication to quality including their custom wood door solutions. Door and More designs unique, one of a kind doors for their clients who wish to have something different from other homes. It is their designs which have gained international notice. All custom doors are designed by master craftsmen with at least 40 years of experience combined. Homeowners love these amazing creations, as well as how the company goes beyond regular products by offering custom and unique doors found nowhere else.
Their easy, new, navigable and striking website definitely brings a new user experience to the industry, US Door and More, and shows the commitment to doing what is necessary and best for outstanding customer service.
About DoornMore.com
Doornmore.com is located in Tampa, Florida where customers can enjoy interior, exterior, and French doors. Their doors are the best designed by staff members with 40 years combined experience in the custom door industry. Door and More Inc. has received plenty of international kudos for their quality, construction, and design. All custom designs are original, unique and top quality.