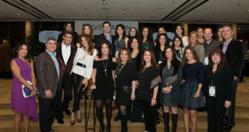 Roslyn, NY (PRWEB) March 15, 2013
Tony Tantillo, CBS's Fresh Grocer, led over 600 attendees in a raucous Live Auction during Sid Jacobson JCC's 18th Annual Auction for Excellence, An Epicurean Event on Thursday, March 7 at Glen Oaks Club.
"The JCC is an incredible force for good in the Long Island community," Tantillo said. "I'm proud to be here to lend my support."
The event brought together flavors of the area's best gourmet restaurants and the excitement of Live and silent Auctions. The evening raised $800,000 to benefit essential programs for those going through life crises, including cancer, loss of a job and caring for those with special needs or Alzheimer's or related dementias.
Guests enjoyed offerings from New York City and Long Island's finest restaurants, including 388 New American Cuisine, Abeetza Pizza & Abeetza Next Door, Bagel Boss, Bar Frites, Ben's Kosher Deli, Bryant & Cooper Steakhouse, Cakes with Character, Cedar Creek, Centro Cucina, Cipollini, Coffee Distributing Corp., Danny Macaroons, Elegant Affairs, Glen Cove Mansion, Glen Oaks Club, Grown Up Goodies, H on the Harbor, Heavenly Tea Leaves, Heirloom Tavern, Joseph Craig Caterers, Kitchen Kabaret, La Bussola, La Ginestra, La Pace, Lawrence Scott Events, Lula Trattoria, Mark of Excellence, Martin Scott Wines, The Meat House, Michael Skurnik Selections, Mitch & Toni's, Nisen, Pearl East, Pearl Pressman Liberty, Phillip Stone at the Lake Success Club, Polaner Selections, Post Liquors, Prime Time Butcher, Road House Wine Importers, Royal Wine de Herzog Selections, Seasons 52, Stresa, Taiko Japanese Restaurant, Vintage Restaurant and Wine Society. Other vendors included Artistry in Flowers, Fred Marcus Photography, ESP Productions, Manhasset Hand Wash, Vincent Rhodes Productions and VP Events .
The Auction for Excellence Committee and Sid Jacobson JCC would like to thank Epicurean Sponsors Adams & Company Real Estate, LLC, Fast Forward, LLC, Biaggi and Sandler Capital for their generosity and support of this event.