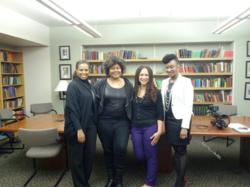 Philadelphia, PA (PRWEB) March 14, 2013
On March 1, 2013 The University of Pennsylvania's Center for Africana Studies, in conjunction with Melissa Harris-Perry's Anna Julia Cooper Project on Gender, Race and Politics in the South of the Newcomb College Institute of Tulane University, presented a day-long symposium on the politics of Black women's hair.
Headlined by Melissa Harris-Perry, host of The Melissa Harris-Perry Show on MSNBC, author and Professor of Political Science at Tulane University, the Symposium, which was open to the public, boasted a jam-packed audience comprised of a broad mix of students, scholars and professionals. There, they discussed the complex politics, history and issues surrounding black women's hair.
Featured panelists included Landra Johnson, co-founder and Chief Executive Officer of CARA B Natural Products, Inc. a company committed to creating natural, chemical free products and promoting positive images for and about ethnically diverse children. Patrice Grell-Yursik, a pioneering Black beauty blogger and personality, whose blog, Afrobella, is the leading lifestyle blog for women of color and master hair stylist and Abenaa Timazee, founder of the Brownstone Natural Hair Salon in Philadelphia were also part of the expert panel. The panel was moderated by Anthea Butler, TV personality and an associate professor in the Department of Religious Studies at Penn known for her beautiful salt and pepper mane.
Landra's discussion focused on the importance of using chemical-free, all-natural products on ethnic babies and kids and also touched on the entrepreneurial drive and parental motivation that led her to launch CARA B Naturally alongside her Chief Marketing Officer and sister Kristi Booker.
After the panel, Landra was interviewed by Melissa Harris-Perry for her show on MSNBC where they discussed everything from the meaning of beauty to the impact of First Lady, Michelle Obama on Black women. Portions of the interview first aired on Sunday, March 4th with more slated to air throughout the remainder of the month.
About CARA B Natural Products, Inc.
CARA B Natural Products, Inc. was founded in 2009 and is headquartered in Charlotte, NC. From the Company mission and all-natural product formulations, to the high customer service standards and charitable giving program - everything at CARA B Natural Products, Inc. is based on the belief that Children Are Always Beautiful, Naturally®.
CARA B Naturally currently offers four Certified Natural personal care products for children of ethnically diverse backgrounds. These products include Shampoo / Body Wash, Leave-In Conditioner / Daily Moisturizer, Moisturizing Hair Mist and Body Lotion. The Company plans to expand its product offerings in the coming months.
CARA B Naturally is available at the Company's website, Walgreens stores, select Whole Foods Market locations and several independent natural retailers nationwide. To learn more about CARA B Natural Products, Inc. please visit http://www.mycarab.com