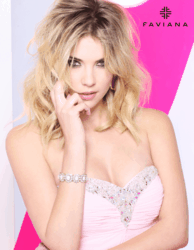 "Faviana is a line that girls can feel super-glamorous in" says Ashley Benson.
New York, NY (PRWEB) March 14, 2013
Ashley Benson wore a sexy black dress, and walked the red carpet alongside co-stars James Franco, Selena Gomez, and Rachel Korine. The stars signed autographs, answered interview questions and took pictures with fans. In addition to the movie, Benson debuted a rich new hair color, transitioning from a soft blonde to a more dramatic chestnut brown, complimenting her red carpet dress.
Faviana, a leading designer and manufacturer of stylish, sophisticated formal dresses and prom dresses, announced their partnership with Ashley Benson earlier this year. Ashley Benson's cult fan following and knowledge of the fashion industry made her a perfect fit for the brand.
"I actually never went to prom," the All-American-looking star told Seventeen magazine. "I would probably wear a short, fun dress. Faviana is a line that girls can feel super-glamorous in. A lot of their designs are based off of what celebrities wear on the red carpet!"
Because she's known for her exquisite taste, Faviana's designers enlisted Ashley's help in picking out which evening gowns and dresses to feature in the campaign. "Faviana Glamour, which is more sophisticated—is for those who like to dress a little bit more mature," she told Stylecaster. "They're all designer-inspired, and you feel amazing in them. I was able to pick out 14 dresses for the campaign, and those are the top sellers! I feel really cool."
For more information, contact: Omid Moradi, omid(at)faviana(dot)com