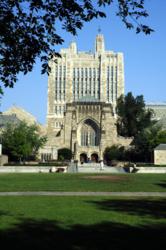 This year we added a second session comprising workshops in specific genres, such as historical fiction and biography.
New Haven, CT (PRWEB) March 15, 2013
After a successful first year, attended by over 110 writers, Yale will host the second annual Yale Writers' Conference, an intensive for committed writers of all ages and all levels of experience, from June 10-19th (Session I) and from June 21-23rd (Session II).
Attendees will once again have the opportunity to work closely with a distinguished roster of writers and teachers. The faculty includes Tom Perrotta, Susan Orlean, ZZ Packer, Richard Selzer, Kevin Wilson, Donald Margulies, Nathaniel Rich, Marc Fitten, MG Lord, Eileen Pollack, Laurel Snyder, Sergio Troncoso, and Trey Ellis, among other distinguished writers.
During Session I, Conference participants can specialize in Fiction or Nonfiction. Session II, which is being offered in addition to Session, is designed for writers who want to work on specific genres, including Crime Fiction, Science Fiction & Fantasy, Historical Fiction, Poetry, Children's & Young Adult, Playwriting, Screenwriting, and more. Students may attend Session I, Session II, or both.
"This year we added a second session comprising workshops in specific genres, such as historical fiction and biography," said Terence Hawkins, Program Director. "We did this for two reasons: first, to allow our writers to concentrate on issues unique to that genre. Second, because this session is only three days, to make ourselves available to writers for whom nine days is too much of a time commitment."
Limited Enrollment Assures Personal Attention
The Yale Writers' Conference features workshops, capped at 12 participants each, which will enable students to discuss their writing with one another and with their workshop leader. Additionally, each student will have a one-on-one manuscript conference with a faculty member, to help refine their work and prepare it for publication.
Throughout the conference, visiting faculty will host master classes related to their area of expertise.
The conference will also help aspiring writers prepare for the world of publishing. Panels with agents, editors, and publishers provide a crash course in the business of writing and the secrets to getting published.
About the Program and Application
During the nine-day Conference and during the three-day Genre Workshops, students will live in one of Yale's residential colleges, where they will share breakfast and lunch with the faculty. They will have full access to the campus, including museums, libraries, and the gym.
To apply, visit http://summer.yale.edu/ywc and submit an application by March 31st. The application requires a writing sample of no more than thirteen hundred words and a $20 fee.