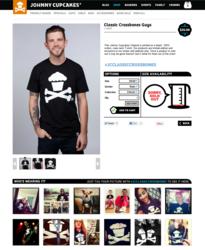 "Community is the most important part of our brand, and everything we do is dedicated to creating a personal experience that hopefully makes people smile and laugh," said Johnny Earle, Head Baker and CEO for Johnny Cupcakes.
(PRWEB) March 14, 2013
After shutting down its website in anticipation for relaunch, Johnny Cupcakes, the independent fashion brand with a recipe for success, is unveiling a new web experience today for its community at JohnnyCupcakes.com. From becoming a Johnny Cupcakes model to engaging with other "Cupcakers," thousands of fans and customers alike can now virtually experience Johnny Cupcakes on a personal level.
Through extensive customer research, the brand discovered its passionate followers were most drawn to Johnny Cupcakes for its tightknit feeling of community, exclusivity and unique personality. These core elements have long been cornerstones of Johnny Cupcakes events, retail bakery environments and endless community surprises, but less prominent online, driving the brand to redevelop its digital presence to create a signature experience.
"Community is the most important part of our brand, and everything we do is dedicated to creating a personal experience that hopefully makes people smile and laugh," said Johnny Earle, Head Baker and CEO for Johnny Cupcakes. "While many brands struggle to engage customers, our community and social interactions have been at the heart of our brand from the start, and we're leveraging these core values in exciting new ways online."
FANS ARE THE NEW FACE OF JOHNNY CUPCAKES
Integrating community into its new web presence, fans can now share photos of themselves wearing their favorite Johnny Cupcakes items via Facebook®, Twitter and Instagram and almost instantly become the featured website model for people worldwide to enjoy. Each product page includes a special hashtag for fans to use when sharing photos, and creativity and personality are highly encouraged!
STORYTELLING BRINGS THE BRAND'S PERSONALITY TO LIFE
The founder of Johnny Cupcakes, Johnny Earle is a talented storyteller and creator of content who loves to surprise people and make them laugh. From pranking his sleeping dad to invading The Hundreds with 200 fake cockroaches, all this content and more is now creatively featured for fans to relive and newcomers to get acquainted with on the site's Family section. Fan interviews are also featured to bring the brand and its community to life.
EXCLUSIVITY IS A CORNERSTONE OF JOHNNY CUPCAKES
Known for its limited-edition products that have attracted fans to camp out overnight at its Bakery Shoppes or sell out online within an hour, Johnny Cupcakes apparel and accessories are not only stylish, but collectable and often hard to nab. The Shop features a Measuring Cup alongside current products to give fans an up-to-the-minute look at stock levels and popularity, and for those that sell out, users can wishlist items in case an extra turns up.
BRAND INTEGRATES STORE EXPERIENCE ONLINE
The site recreates some of the luster and excitement fans experience when visiting a Johnny Cupcakes Bakery Shoppe in Los Angeles, Boston or London by focusing on design and bringing the people behind the brand to life. Customers arriving at JohnnyCupcakes.com are greeted with a bird's eye view of the brand from the founder's latest blog posts to minute-by-minute updates from retail stores through Instagram and Twitter. With real-time updates and a library of creative content, fans are given endless opportunities to dig deeper into the elements that make Johnny Cupcakes unique.
To celebrate its new website, Johnny Cupcakes is today releasing four t-shirt designs featuring a parody of a popular tech brand, design by graphic artist Timba Smits and two reinterpreted fan favorites. Two of the designs are exclusively available online. To virtually taste the new Johnny Cupcakes, please visit JohnnyCupcakes.com.
About Johnny Cupcakes
Johnny Cupcakes, Inc. is an independent clothing and accessories brand founded by Johnny Earle, who began selling his quirky cupcake-themed t-shirts and pins to friends and family out of the trunk of his beat up '89 Camry in 2001. Creating a cult following, Earle grew the brand by selling t-shirts out of his suitcase while touring with his hardcore music band. Noted as one of Inc. Magazine's 2012 Fastest Growing Companies, Johnny Cupcakes has moved far beyond suitcase-based sales and expanded its reach to include a robust retail site and eye-catching and engaging storefronts in Boston, Los Angeles and London, UK. Each retail space is designed as a vintage bakery and displays signature products inside refrigerators and glass bakery displays. Johnny Cupcakes creates a unique experience for customers through events, packaging, retail environments and endless surprises. All Johnny Cupcakes designs are exclusive and most printed just once, making the products not just stylish, but collectible. Voted No. 1 young entrepreneur in 2008 by BusinessWeek, Earle remains dedicated to bringing the Johnny Cupcakes experience to fans across the country in fun, unexpected ways. Get a taste at JohnnyCupcakes.com.