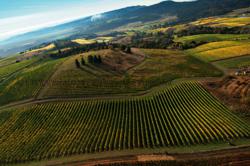 The new site is innovative in its use of stunning visuals and organization of information for both consumers and industry alike.
Portland, OR (PRWEB) March 14, 2013
The Oregon Wine Board has contracted with White Horse to create an innovative user experience-focused website (http://www.oregonwine.org), to help increase awareness of the Oregon wine brand, as well as help Oregon wineries promote their products. The Oregon Wine Board is semi-independent Oregon state agency that manages marketing, research and education initiatives that support and advance the Oregon wine and wine grape industry. The Board works on behalf of all Oregon wineries and independent growers throughout the state's diverse winegrowing regions. The industry contributes more than $2.7 billion in economic activity to the Oregon economy each year.
The new site is innovative in its use of stunning visuals and organization of information for both consumers and industry alike. The project included an interactive membership database, a repository for member-created winery profiles, and a robust search function, all within a new updatable content management system. Responsive template design allows the experience to scale for mobile and tablet users. In addition to the consumer-facing OWB website, White Horse also redesigned an industry-only website for the Oregon Winegrowers Association (OWA), a legislative and regulatory organization operating on behalf of the Oregon wine industry.
Award-winning wine blogger Julia Crowley (Wine Julia) posted a review based on an early viewing of the new responsive redesign of the Oregon Wine Board's site, oregonwine.org. In her review, she called the site "an outstanding window into the Oregon wine brand."
One key function that will be particularly helpful for people who want to experience Oregon wineries is the search function. The site features a wealth of educational content on wine regions and varietals, and sites. Visitors are able to quickly find and navigate to a winery near them or in the area they wish to visit from either their smartphone or desktop browser.
"Our website is critically important in our efforts to increase awareness of Oregon wine and promote the Oregon wine brand," said Tom Danowski, executive director of OWB and OWA. "This new website provides a one-stop platform to discover and learn about the amazing qualities of our industry."
"As proud Oregonians, we were passionate about contributing our digital expertise in the government arena to the Oregon Wine Board's new digital presence," says Jennifer Modarelli, White Horse principle. "The state's wine regions are globally recognized and a well-designed and optimized site furthers our state's leadership in the industry while helping Wine Board members grow their brand and market share."
White Horse collaborated with Experience Lab, a Portland user experience design company led by former White Horse UX Director Robin Stevens. The site's imagery, a focal point of the design, was primarily sourced from Carolyn Wells Kramer, a winery photographer recently featured in the Winter 2012 issue of the online Pix magazine.
About White Horse
White Horse is a 32-year-old, woman-owned digital agency that designs and builds user-focused Web and mobile experiences. Our single-minded focus on gaining a deep understanding of the end-user experience, then aligning design, technical, and business processes, allows organizations and departments to meet user needs and create lasting value. Our forward-looking processes ensure the digital experiences we deliver will meet the demands of always changing technologies. Our services include digital strategy, user research, Web design, mobile design, social media strategy, technical integration, .NET Applications, user testing, Android, iPhone, and Windows 7 applications, and enterprise and open-source content management systems. For more information, visit http://www.whitehorse.com.
# # #