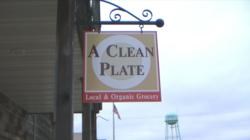 I hope that through Lakes Country Living viewers can better understand and appreciate the challenges and opportunities people in rural areas face.
Brandon, Minnesota (PRWEB) March 14, 2013
A Clean Plate is more than something you eat from. It's also the name of a new grocery store in Menahga, Minnesota, and the subject of a new episode on Lakes Country Living – a half-hour television program that strives to promote "locally grown economy" from many different angles. By tapping into two food market trends – the increasing consumer interest in organic and locally grown foods – owners Wayne and Julie Isaacson have been able to meet and exceed their projected sales since opening their business last summer.
Stephen Henning, producer of Lakes Country Living, documents the stories of small businesses that have direct connections to local farms, and jumps at the opportunity to draw focus on families in rural communities that are building those links into viable, sustainable success stories. "I get really excited when I see success spreading out into the community, when people work together for mutual benefit" He adds: "This story has all the right elements. It's a family-owned enterprise, in a small town in an area that's economically challenged, and they are approaching their business in a way that will also have a positive impact on many small, local producers. You know, the ripple effect. I hope others in similar settings and circumstances will see this and be encouraged."
"I really admire folks like Wayne and Julie, and respect what they've accomplished through their business. They want their customers to have access to good products, and they want their suppliers to be successful, too." Henning points out how Wayne shows almost equal concern for both in the video.
Henning's television show has featured many stories about green entrepreneurs, local producers and marketers that have key roles in the locally grown economy. In its first three seasons, stories on Lakes Country Living have included a berry farm, a grass-fed beef producer, several CSA operations, a food co-op turned alternative grocer, and a farmers' market. Henning quips: "I hope that through (Lakes Country Living) viewers can better understand and appreciate the challenges and opportunities people in rural areas face."
Lakes Country Living is a half-hour made-for-cable video magazine featuring stories of outstate Minnesota. Hosted by nationally acclaimed landscape painter Stephen Henning, the show's topics usually include the arts, agriculture, Main Street entrepreneurs, local history, natural resources and outdoor recreation. Particular attention is given to conveying local flavor. Now in its third season, the show airs on 17 telecom cable networks in Minnesota and North Dakota. More information is available online at http://www.lakescountry.tv.