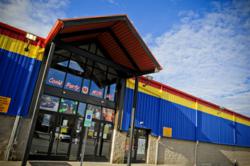 "We credit much of our success to the community and make an effort to continually meet their needs..." according to David Day, Owner.
Asheville, North Carolina (PRWEB) March 15, 2013
Asheville's Fun Depot began as a simple quest to spend more quality time as a family and has grown in not only local recognition for family fun and entertainment, but internationally recognized as a top tourist attraction for visitors.
When David and Mary Beth Day first moved to Asheville with four small children, they found that there were few family-friendly entertainment offerings. David Day has strong creative engineering and construction skills and began developing the concept of a Fun Depot, where they could offer a wholesome fun environment with traditional arcade games and high-tech attractions for families with all ages and interests.
After only five months after the property was purchased, Asheville's Fun Depot opened their doors with strong community support. Since opening their doors nine years ago, Asheville Family Fun Depot has been recognized consistently by both local and international groups. The International Association of Amusement Parks and Attractions (IAAPA) rated it the "Top Family Entertainment in the World," a title they maintained for two consecutive years. They have also been recognized locally as the #1 Place to have Birthday Parties for five years in a row, #1 Rainy Day Activity, as well as #3 for Best Miniature Golf and Best Party Entertainer.
Asheville's Fun Depot credits much of their success to the supportive community and continuously works to keep the Fun Depot as an exciting and fun place for families alike. According to owner David Day, "If the Asheville community hadn't received us with open arms, we wouldn't be experiencing the type of success that we have. We are so grateful for the continued support and are committed to keep the Fun Depot a great family destination."
Asheville's Fun Depot is constantly updating their offerings. In past years they expanded their space from 36,000 square feet to 65,000 square feet and added an outdoor go-cart track. They also recently added large inflatables and a hurricane simulator. On site, The Depot Diner offers a full menu for families to eat.
Asheville's Fun Depot is committed to their mission to "Impact Others Lives in a Positive Manner," something that they strive to fulfill in every aspect of development, from the type of whole some entertainment provided, to the community partnership to the customer service the staff provides. To learn more about Asheville's Fun Depot, visit http://www.ashevillesfundepot.com or call (828) 277-2386.
Notes to Editors:
Asheville's Fun Depot works with Texas Biz Solutions on their web and marketing development. To learn more about Texas Biz Solutions visit http://www.TexasBizSolutions.com.