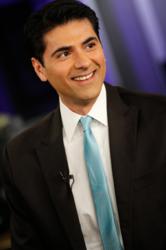 Colon cancer is the second leading cause of [cancer] death, and it's preventable.
Beverly Hills, CA (PRWEB) March 14, 2013
Beverly Hills doctor Sonu Ahluwalia, MD, visits Good Day LA each Monday to inform viewers about the latest developments in health and wellness. This week, the Fox news program shined a spotlight on the crucial topic of colon cancer prevention.
"Colon cancer is the second leading cause of [cancer] death, and it's preventable," said Dr. Ahluwalia, who is an orthopedic surgeon at La Peer Health Systems in Beverly Hills. However, according to the doctor, fear of undergoing a colonoscopy actually prevents many people from scheduling this life-saving procedure.
"We just wanted to spread the word and let people know that it's not as bad as people think it is," said Dr. Ahluwalia.
To that end, La Peer hosted Scopefest this past weekend in honor of March being Colorectal Cancer Awareness Month. A two-day event, Scopefest began with a cocktail party at the Beverly Hills Thompson Hotel. Doctors and nurses enjoyed mixologist-made bowel preparation beverages before undergoing colonoscopies the following morning at La Peer. The goal of the event was to boost public awareness about colon cancer while lessening anxiety over the preparation process.
"We'll do it together so it's a fun event and everyone can see that it's not as bad as they think it is," said Dr. Ahluwalia. "Fourteen people had colonoscopies that day, doctors and nurses, to show that this is something that can really save lives."
The gold standard in colon cancer prevention, colonoscopy is both a diagnostic and preventative treatment, in that the test allows surgeons to remove pre-cancerous polyps before cancer can develop. Dr. Ahluwalia stressed the importance of patients following the medical guidelines about when to schedule a colonoscopy.
"At fifty, you should have your first colonoscopy unless you have a history of colon cancer," said Dr. Ahluwalia. "Then it should be younger, at forty, or ten years before your relative had the cancer. If you're African American, it's forty-five."
The board-certified surgeon went on to suggest that viewers advise friends and relatives to be screened for colon cancer as well. Interested patients can contact La Peer's Colonoscopy Center of Excellence at ColonoscopyMD.com or call 888.590.2129 to schedule a colonoscopy procedure. "Save some lives," Dr. Ahluwalia said, reminding viewers to undergo screening every ten years.
Watch the entire news segment on My Fox LA.
For more health tips from Dr. Ahluwalia, as well as videos of his FoxLA segments, visit his Facebook page.
Sonu Ahluwalia, MD, is an internationally-acclaimed board-certified orthopedic surgeon at La Peer Health Systems, as well as the Clinical Chief of Orthopaedic Surgery at Cedars Sinai Medical Center in Beverly Hills. His private practice specializes in sports medicine, shoulder, knee and hip surgery.
Dr. Ahluwalia completed his orthopedic training at the Harvard Combined Orthopaedic Surgery Residency Program in Boston, one of the most sought after training programs in orthopaedic surgery. He has completed three fellowships, two at Harvard Medical School and one at Lenox Hill Hospital in New York City, on shoulder surgery, sports medicine, and joint replacement and joint preservation surgery. For more information please call 310.659.2910 or visit http://www.Ahluwalia.org.