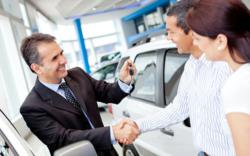 It's an online marketplace wherein lenders can compete to fund each individual's loan.
Baltimore, MD (PRWEB) March 14, 2013
Maryland Auto Finance, based out of Baltimore but serving consumers statewide, has unveiled a sophisticated new approval platform designed to take the credit approval process online. Previously, consumers in need of a car loan in Maryland would often have to submit applications to a multitude of lending institutions - banks, credit unions, and dealers - in order to find a company willing to fund their loan at an affordable rate. This was a particularly frustrating process for those consumers with credit scores of 650 and lower, as many lender simply do not accept people with subprime or "bad" credit.
The new platform from Maryland Auto Finance, however, streamlines this process by shopping one user-submitted credit application among a multitude of lenders. "It's like an online marketplace," said company spokesperson, "wherein lenders can compete to fund each individual's auto loan." However, this senior official was quick to distinguish this process from traditional rate-shopping, in which users are often bombarded with telephone calls and emails from multitude providers. "Credit applications are placed exclusively with only one dealer or lender," he said. "This ensures that our clients have the most optimal financing experience."
The company is taking significant precautions when it comes to data protection. All personal private information is transmitted and stored with SSL encryption, and access to this data is severely restricted. Certain fields are programmatically deleted after a period of seven days.
Interested parties can learn more at the company's website.
About the company: Maryland Auto Finance was founded by a team of automotive experts with many years of experience in the automotive and finance industries. They have been working hard to secure financing approvals through their network of dealers and lenders, and they are quickly becoming the "go to" resource for Maryland residents in need of automotive financing.