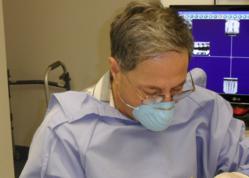 Fountain Valley, CA (PRWEB) March 13, 2013
Dr. Robert Mokbel now provides professional teeth whitening procedures to patients who want whiter teeth. The foods people eat and the things they drink can cause organic staining, which high-strength whitening products available from the dentist can lighten. Other procedures may be necessary if the discoloration is caused by certain medications the patient may have taken in their youth or when trauma has caused a problem.
Tray-based teeth whitening products are one of the most common methods for lightening teeth. The idea is that a bleaching solution is placed in a tray that then fits over the teeth. This allows the solution to contact the teeth for a period of time, and then the tray is removed. There are many over-the- counter products that are tray-based. Because they are generalized products, the trays are designed to fit an average mouth. This means that there is the possibility that the bleaching agent will not adequately contact all of the teeth. The bleaching agent is often relatively weak, so it can take a long period of use before results are noticed.
When a patient visits the dentist for tray-based teeth whitening solutions, individualized trays are molded to impressions that are taken of the patient's teeth. This allows the solution in the tray to evenly contact all of the teeth the patient wants whitened. In addition, the solutions used by the dentist are stronger than those available on the open market. This means that results will be faster with the professional products than with generic ones.
People who are looking for faster methods of teeth whitening often select in-office professional whitening procedures. These procedures use a strong bleaching solution that is applied directly to the teeth and a special light or laser is used to speed up the process. The process takes 30 to 60 minutes for each visit, and multiple visits may be required. Results are immediate, but a patient may require additional treatments in order to achieve the desired level of whitening.
Dr. Mokbel also offers BriteSmile in-office whitening, which whitens teeth in just one hour. The gel is applied to the patient's teeth, and with BriteSmile, a patented blue light activates the gel for about 20 minutes while the patient is offered TV or music. This process is repeated twice, and within the hour patients have whiter teeth.
Information on the different types of professional whitening procedures that Dr. Mokbel offers is available at http://www.scdentalimplants.com.
Robert Mokbel, DDS is a prosthodontist offering patients personalized laser and implant dentistry for Fountain Valley, CA for over 28 years. Dr. Mokbel received his Prosthodontic degree in Paris, France where he did four years of research in prosthetics and in occlusion and attended Periodontal courses, He then arrived at USC where he taught prosthetics since 1983. He is part of one percent of dental professionals providing the most recent FDA cleared laser procedure for gum disease and periodontal treatment. To learn more about Robert Mokbel, DDS and his services visit his website at http://www.scdentalimplants.com.