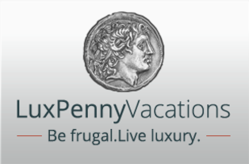 Live The Lux Life!
Miami, Florida (PRWEB) March 14, 2013
LuxPennyVacations continues to set the trend in luxury and affordable vacation packages with the announcement of it's new extended stay package. LuxPennyVacations(LPV), is proud to unveil this package, exclusive to LPV clients and geared toward couples. Enjoy an extended stay at the Grand Solmar Cabo resort with a package designed for two people.
This exclusive package, for LPV customers, has a price range from $4768-$6440, depending on the season. This package can also be upgraded to all inclusive, where the price ranges from $7004-$8678. The extended stay package is good for 13 nights at the expense of 11 nights. By taking advantage of this exclusive package, LPV customers are able to save up to $1120 on an extended stay package. This package includes 13 nights in a grand studio at a resort, which has been ranked 74th in the world by Conte Naste Travel Magazine.
The room offered by this package is the Grand Studio Suite that comes fully furnished with an amazing ocean view. There is a kitchen with a marble wet bar, separate sitting area, marble bathroom with tub, marble floors, luxury amenities and private terraces. The studio suite is perfect for three adults or two adults and a child. One King bed and queen Murphy bed, flat screen satellite TV, air conditioning, In Villa Dining , private chef and massage, separate sitting area, wireless and plug in internet access, Daily maid and nightly turn-down services. 737 square feet. These services are all exclusive to LPV customers who take advantage of our limited, but amazing,extended stay Cabo package.