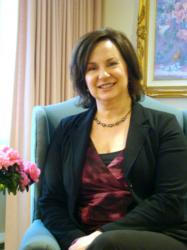 DES MOINES, WA (PRWEB) March 15, 2013
Susan McConnell has joined Wesley Homes Retirement Communities and Health Services as the Executive Director for Wesley Homes Foundation.
As Executive Director, McConnell will raise the visibility of major fundraising endeavors of Wesley Homes, including a state-of-the-art health center on the Wesley Homes Lea Hill campus in Auburn, Washington. McConnell will also play a significant role in the expansion of Wesley Homes Retirement Communities into Puyallup and Renton, Washington.
McConnell comes to Wesley Homes from Ohio where she was the CEO of Make a Wish Foundation for Ohio, Kentucky and Indiana. She's a Washington State native and was the Director of Production and Special Events at PONCHO (Patrons of Northwest Civic, Cultural and Charitable Organizations).
"I've worked with kids, and that was incredibly fulfilling. With Wesley Homes, I can be an advocate for another segment of the population that is sometimes vulnerable. I can help make a difference," said McConnell. "There are people and communities out there who need what Wesley Homes can provide, and I want to keep the momentum of our mission going so we can continue to serve older adults."
Established in 1944 and affiliated with the Pacific Northwest Conference of the United Methodist Church, Wesley Homes operates two retirement communities and a home health agency. Wesley Homes Des Moines is a continuing care retirement community offering cottage homes, apartments, assisted living and skilled nursing. Wesley Homes Lea Hill in Auburn offers Village Homes, apartments and memory care. Wesley Homes Community Health Services provides home health services to clients throughout the Puget Sound region.
# # #
WESLEY HOMES
Retirement Communities │ Health Services │ Foundation
815 S. 216th Street • Des Moines, WA 98198 • (206) 824-5000