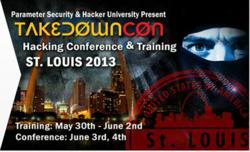 Hackers are winning the war on cyber security. The only way to win is to get inside their minds and understand the enemy
Saint Louis, MO (PRWEB) March 14, 2013
Famous Chinese military general, Sun Tzu, once said, "Know thy self, know thy enemy." Parameter Security, a St. Louis-based ethical hacking firm, echoes Tzu's sentiments by bringing the very first hacking and offensive cyber security conference to St. Louis – TakeDownCon. The 2 day conference, which will run from June 3rd through June 4th, will amaze, frighten and educate event-goers as they get an up-close look into the minds of hackers.
"We couldn't be more excited about hosting TakeDownCon in the gateway city," said Renee Chronister, co-founder and CEO of Parameter Security. "This conference is geared toward IT and security professionals who fight the war against hackers on a daily basis. Through presentations, demonstrations and training, attendees will better understand the minds and motives of hackers so they can effectively defend against attacks – whether internal or external."
Parameter Security has been at the forefront of the hacking and offensive cyber security community for several years, exposing vulnerabilities in networks and human behavior worldwide. Over the course of the 2 days conference, attendees will be able to witness real-world attacks and experience "deep dive clinics" in an effort to drill down with experts for an in-depth understanding of mobile attacks, footprinting, powning IPs, incident analysis, web attacks, webshells and more.
In addition to witnessing real-world hacks, TakeDownCon St. Louis will feature a total of 10 speakers including professional hacker and co-founder of Parameter Security, Dave Chronister. Furthermore, Twitter's very own Charlie Miller, best known for hacking a Mac using only the power supply, will be the keynote on the first day of the conference.
The panel of experts will tackle a variety of specialized topics, such as leveraging mobile devices in pen tests, cryptanalysis, hacking phones with near field communications, how the most protected systems can be breached, defending your systems, computer forensics and more.
"Hackers are winning the war on cyber security. The only way to win is to get inside their minds and understand the enemy," said Chronister. "It is our goal to help empower the good guys and give them the resources to take their information security to new heights."
Preceding the conference is a four day training bootcamp. TakeDownCon | Academy, which will be conducted by Hacker University, will offer technical training and certification classes on a variety of subjects including, but not limited to: CEH, CHFI, Advanced Penetration Testing, Advanced Mobile Hacking & Forensics, Advanced Network Defense, Hacking Secure Encryption and Countermeasures and much more.
TakeDownCon St. Louis will be held at Ameristar Casino in St. Charles, Missouri. For more information on the conference, the bootcamps or to register in advance, please visit http://www.takedowncon.com/stlouis.
About TakeDownCon St. Louis & EC-Council
This highly technical IT security conference is a no-frills and topic focused conference that is targeted toward IT and security professionals of all levels. The topical theme of this unique event is broken up into two days and exposes some of the most talked-about security issues such as Web Application Security, SCADA and Critical Infrastructures, Cloud Security, Mobile Hacking and more. TakeDownCon St. Louis is organized by the International Council of E-Commerce Consultants (EC-Council), which is a member-based organization that certifies individuals in various e-business and security skills. EC Council is the owner and developer of the world-famous E-Council Certified Ethical Hacker, Computer Hacking Forensics Investigator, Certified Security Analyst, License Penetration Tester programs and various others offered in over 60 countries around the globe. For more information about EC-Council or TakeDownCon St. Louis, please visit http://www.eccouncil.org or http://www.takedowncon.com/stlouis.
About Parameter Security & Hacker University
Hosting and sponsoring TakeDownCon St. Louis is St. Louis-based, ethical hacking firm Parameter Security™ and its training counterpart Hacker University™. Parameter Security is comprised of Certified Ethical Hackers who emulate the minds and behaviors of malicious hackers to test the security of your systems and employees. Parameter Security offers IT compliance audits, penetration testing, vulnerability assessments, social engineering, wireless security audits, secure code reviews, computer forensics and much more. Parameter Security's subsidiary, Hacker University, is an EC-Council Accredited Training Center (ATC) for IT professionals and non-IT professionals who desire education and training regarding information security and malicious hackers. Our EC-Council Certified Instructors (CEI) offer a variety of courses from end-user security awareness training to IT security professional certifications such as C|EH, E|CSA, C|HFI, CISSP and more. For more information about Parameter Security and/or Hacker University visit http://www.parametersecurity.com.