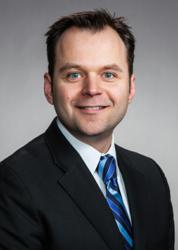 "Our clients will certainly benefit from his skills, knowledge and experience," said Thorvald A. Nelson, the administrative partner for the firm's Denver Tech Center location.
Denver, Colorado (PRWEB) March 14, 2013
Holland & Hart LLP announced today that experienced utilities lawyer, Emanuel T. Cocian, joined its Energy, Telecom and Utilities Practice Group.
Prior to joining Holland & Hart, Cocian was an Assistant Attorney General for the State of Colorado, where he practiced before the state and administrative courts in many areas of public utilities law, including electric, natural gas, telecommunication and transportation matters.
"We are very pleased that Emanuel joined Holland & Hart. He is a very talented lawyer who will contribute tremendously to our practice," said Robert Pomeroy, Chair of the firm's Energy, Telecom and Utilities Practice Team.
Cocian advises clients on public utilities matters, as well as energy law, energy resource plans, and natural gas, electricity and telecommunications matters. His practice includes appearing on behalf of energy producers, utilities and electricity consumers in administrative proceedings in Colorado, Montana, Utah, Wyoming, and the Federal Energy Regulatory Commission (FERC).
"I'm excited to be part of Holland & Hart, a firm that is well recognized and respected throughout the Rocky Mountain region," said Cocian.
Cocian is a graduate of Rutgers University School of Law-Camden, and Lee University. He is admitted to practice in Colorado and Georgia, and is a member of both the Colorado and Arapahoe County Bar Associations.
About Holland & Hart
Holland & Hart LLP delivers integrated legal solutions to regional, national and international clients of all sizes.
Since its inception in 1947, Holland & Hart's more than 440 lawyers have consistently been recognized by leading national and international peer and industry review organizations for innovation and dedication to the practice of law.