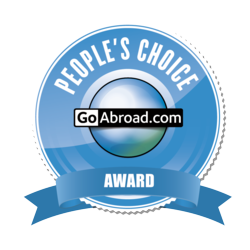 Nominations for the 2013 People's Choice Award are due by April 12, 2013
Fort Collins, CO (PRWEB) March 15, 2013
The GoAbroad team is still accepting nominations for the 2013 Innovation Awards, and would like to remind all study abroad advisors, coordinators, and offices to nominate third party international education organizations for the 2013 People's Choice Award!
This particular award honors the top international education organization, as selected by study abroad professionals and students - and GoAbroad encourages study abroad offices to submit nominations for this prestigious award.
Nominating is simple -- all study abroad advisors need to do is fill out the form with their TOP THREE selections of third-party, international education organizations, who they feel are most deserving of the award. Votes will remain anonymous and no names or titles will be shared.
The top five finalists in this category will then be voted on by students, to determine the winner of the 2013 People's Choice Award.
If you are a study abroad advisor, please make sure to get your TOP THREE nominations for the People's Choice Award in by APRIL 12, 2013 by filling out the form that is linked below.
PEOPLE'S CHOICE AWARD NOMINATION FORM
MORE INFO ABOUT 2013 GOABROAD INNOVATION AWARDS
If you have any questions about the GoAbroad Innovation Awards, please contact Tiffany Harrison, by email: tiffany.harrison(at)goabroad(dot)com
About GoAbroad.com
For fifteen years, GoAbroad.com has been the web's premier resource for meaningful international experiences and alternative travel opportunities, providing the most up-to-date and accurate information on programs available worldwide. From GoAbroad's GoMedia services, which offer a distinct range of internet marketing solutions for international educators, to the prestigious GoAbroad Innovation Awards, and the newest initiative - FundMyTravel - an online crowd funding site to help students raise money for meaningful travel experiences, the GoAbroad team is dedicated to providing the most comprehensive resources to the field of international education.