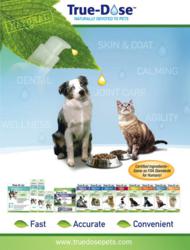 Trainers really appreciate the quickness of True-Dose Calming and how it really helps dogs ficus.
St. Louis, Missouri (PRWEB) March 14, 2013
True-Dose is excited to bring some furry friends to the TV screen in a series of commercials this week! The commercials will air locally in St. Louis during KDNL ABC 30's Good Morning America, which airs from 8 a.m. to 9 a.m., Monday through Friday.
The commercials feature True-Dose success stories and testimonials and promote their new site, http://www.tryTD.com. On TryTD customers can watch All About Business feature videos and get exclusive money-saving offers. Customers who purchase a bottle for $19.99 will receive double their order for free! Customers can order online or call 877-447-7710.
True-Dose's All About Business videos feature trainer and customer testimonials as well as some furry friends who use True-Dose products. The videos also include live demos of True-Dose products, including True-Dose Calming, with True-Dose pet pal, Archie, a Portuguese Water Dog, who remained calm even during filming!
Four-year-old lab Wilson also tried True-Dose Calming and had great results. Calming is great for fireworks, thunderstorms, separation anxiety and anxiety from visits to the veterinarian, groomer or trainer.
"Trainers really appreciate the quickness of True-Dose Calming and how it really helps dogs focus," said Joe Wayman, founder of True-Dose.
Another True-Dose video features a four-year-old cat, Powder, whose pet parents use True-Dose Joint Care, which reduces pain and increases flexibility.
"As pets get older, they slow sown and it's nice to have their joints in good health and they start running around like when they were younger," said Wayman. "Joint issues are a major concern with older pets. True-Dose joint product is important because it absorbs quickly into the pet's system. The human grade ingredients really do get absorbed into the pet's system to have an effect."
About True-Dose
True-Dose, headquartered in St. Louis, MO, uses a patented system to produce high-quality natural supplements for canines and felines. Their products address Joint Care, Skin and Coat, Calming, Wellness and Dental Care. True-Dose supplements are manufactured in a human-grade pharmaceutical facility, following the same strict testing and quality standards mandated by the FDA for state-of-the-art pharmaceutical product manufacturing. Their raw ingredients are certified and tested to ensure they meet strict quality standards. The founders of True-Dose have long had the goal of providing human-quality, pharmaceutical-grade products to our four-legged friends.
True-Dose ensures quality ingredients as well as accuracy and ease of dosage. True-Dose products have been clinically proven to have faster absorption rate and higher peak concentration than tablets and chewables in a head-to-head crossover study conducted by the Oklahoma State University Veterinary Animal Science and Research Departments.