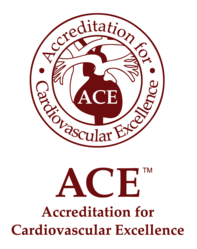 It's great to . . . say we've looked at what was wrong, fixed it and that an unbiased, certifying third body agrees that we're doing quality work. We believe that if we produce quality results, then the reputation will follow.

Howard P. Grill, MD
Washington, DC (PRWEB) March 18, 2013
Documenting the effectiveness of the Accreditation for Cardiovascular Excellence quality programs, ACE has recently been in the news. Cardiovascular Business cites Excela Health System's risk mitigation plan included ACE to endorse measures that would prevent future inappropriate procedures and assist in restoring the hospital's reputation. Howard P. Grill, MD, FACC, Director of the Cardiac Cath Lab (CCL) at Excela, saw the situation of unnecessary stenting and the resulting costly payments to government agencies as a wake-up call for the implementation of a robust quality improvement program. Dr. Grill stated that, by identifying practices and measures that would prevent recurrences and utilizing the Society of Cardiovascular Angiography and Interventions (SCAI) toolkit, the CCL at Excela achieved accreditation through ACE in 2012. "It's great to be able to say we've looked at what was wrong, fixed it and that an unbiased, certifying third body agrees that we're doing quality work," states Dr. Grill. "We believe that if we produce quality results, then the reputation will follow."
The importance of accepting responsibility and proactively applying key principles to achieve exceptional patient care is further examined in a current article in Cath Lab Digest. Sheree Schroeder, MSN, RN, RDCS, FASE, Director of Peer Review Services at ACE, reviews how to implement a quality, proactive peer review program in the CCL, noting that leadership ultimately establishes the framework to ensure quality care. Stating that internal peer review processes are vital, external validation can complement these processes by integrating Appropriate Use Criteria (AUC) with nationally recognized benchmarks, eliminating bias and engaging physicians in quality initiatives. "Accurately documenting the factors that support the determination of appropriate use is essential to improving CCL performance and moderating risk for all stakeholders," said Ms. Schroeder. With public reporting becoming more widespread and reimbursement models increasingly tied to this data, Ms. Schroeder notes that a "…lack of complete data and transparency continue to affect CCL performance" and that "…peer review should not be reserved for poor outcomes situations."
ACE offers Accreditation and E3 More Than Peer Review services for validating Cath/PCI processes in the CCL. ACE programs deliver confidence by utilizing cardiology specialists to guide the development of an integrated quality program. Through objective evaluation, validating and team-building, ACE partners with your organization to ensure the quality outcomes process. The effectiveness of ACE services is recognized in a recent press statement: "Much has changed over the past year," said Robert Rogalski, chief executive officer of Excela. "In fact, Excela Health has achieved national recognition for quality standards within our CCL, emphasizing our focus on patient safety." Visit the ACE website for additional information and to schedule a complementary one-hour consultation: http://www.cvexcel.org.
About Accreditation for Cardiovascular Excellence
ACE, an independent organization sponsored by the Society for Cardiovascular Angiography and Interventions (SCAI) and the American College of Cardiology Foundation (ACCF), offers independent evaluation and monitoring of facilities that provide cardiovascular care. By reviewing facility and operator performance and comparing clinical decision-making to nationally accepted best practices, ACE peer review and accreditation services plays a critical role in continuous quality improvement programs. Learn more at http://www.cvexcel.org.
_____________________________
i Gormley, J. Cardiovascular Business Ill Repute: Maintaining Your Good Name in Adversity March 2013
ii Schroeder, S. Cath Lab Digest Three Steps for a Quality, Proactive Cardiovascular Cath Lab Peer Review March 2013
iii Pittsburgh Tribune-Review Westmoreland Judge to Review Status of Stent Suits March 5, 2013