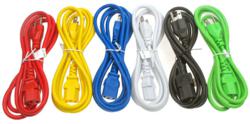 Our customers were looking for a solution to differentiate power paths and prevent accidental disconnections by removing the wrong cord," said Phil Truong, Product Manager. "We now offer the solution
Union City, CA (PRWEB) March 18, 2013
SFCable, a premium cable retailer offering unbeatable prices, now stocks IEC320 C13 to NEMA 5-15P universal power cords in 6 different colors: black, white, blue, green, red and yellow.
The variety of colors available are incredibly useful in an office, home or networking environment where users need to quickly and efficiently differentiate between devices and connections. Tech support and trouble shooting is made simpler with color identification saving time when describing connections.
"Our customers were looking for a solution to differentiate power paths and prevent accidental disconnections by removing the wrong cord," said Phil Truong, Product Manager. "We now offer the solution."
IEC320 C13 to NEMA 5-15P cord is designed for use with computers, monitors, scanners and printers that use USA 3 prong connections.
SFCable offers the greatest assortment of orientations in the market with the C13 receptacles available in straight, right angle, left angle, up and down angles.
Cables sold by SF Cable are of the highest quality built to NEMA 5-15P standards and are all UL (Underwriters Laboratories) certified. The cables are fully molded to provide maximum durability and signal transmission and come with lifetime guarantees. All power cords supplied by SF Cable have been certified to comply with the latest RoHS2 and REACH standards which include over 132 controlled substances.
See the SF Cable stocked selection of C13 power cords here: http://www.sfcable.com/C13-power-cords.html
For customers looking for different custom colors, the SF Cable sales team can provide customized power cables in other colors by contacting them directly at sales(at)sfcable(dot)com.
About SF Cable, Inc
SF Cable is a retailer of computer cables and accessories at wholesale prices. SF Cable offers a complete line of standard computer cables, adapters, networking cables and power cords. SF Cable is firmly committed to providing the finest value of quality, price and service available in the marketplace. For more information, please contact SF Cable at 510-324-2299 or visit our web site at http://www.sfcable.com.