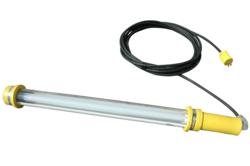 The FTL-3-LED-50-HD led trouble light is designed specifically for operators to lean the light upright against the wall.
(PRWEB) March 14, 2013
The FTL-3-LED-50-HD 8 watt LED drop light from Larson Electronics offers operators in commercial and industrial work environments a more durable and powerful alternative to traditional fluorescent drop lights. Featuring weather and water resistant construction, heavy duty aluminum housing, rubberized handle and end cap, and a powerful LED tube lamp, this LED drop light is ideal for demanding work applications where durability as well as powerful output is needed. The housing on this LED light is constructed of aluminum for light weight yet durable operation. The LED lamp assembly is fitted with one of Larson Electronics' LEDT24-8-T8 series, allowing this light to produce 800 lumens of high quality light output while also providing the impact and vibration resistance fluorescent and incandescent lamps cannot match. The LED lamp is protected by a heavy duty non-glass tube lens that has been lightly frosted for even light distribution, and helps this lamp achieve food safe approval for use in the food services industry. The end cap and handle on this LED work light feature rubberized construction, adding further resistance to damage from impacts as well as providing a secure gripping surface for managing the light during use in wet conditions. A set of included mounting hooks allow operators to also hang the light overhead or from railings to allow easier hands free operation. Larson Electronics has also added an innovative cord connection that utilizes a 90 degree elbow and steel cord gripping bracket to allow the light to be stood on end without damaging the cord as is typical with other lights utilizing a straight through cord connection. The FTL-3-LED-50-HD comes with 50 feet of cord fitted with a standard straight blade plug to provide ample length for movement around the work area and easy connection to standard wall outlets. This drop light operates on standard universal voltage ranging from 100 to 277VAC including 110 and 120 VAC and is ideal for use in industrial, commercial, professional and utilities industries where reliable yet convenient and powerful illumination is needed to ensure efficient and safe performance of work operations.
"The FTL-3-LED-50-HD led trouble light is designed specifically for operators to lean the light upright against the wall," said Rob Bresnahan with Magnalight.com. "Generally, when you lean a trouble light on its base, you pinch the cord, which ultimately becomes the failure point for the light. We machine a metal insert for our base and put a rigid elbow at the cord handle connection, so when the light is leaned up against a wall, there is no damage to the cord."
Larson Electronics is a long time leader in the industrial lighting field and produces a wide range of intrinsically safe LED lights, explosion proof LED work lights, portable LED lights, explosion proof flashlights and LED trouble lights. The entire Larson Electronics line of work lighting solutions can be viewed by visiting them on the web at Larsonelectronics.com. You can also call 1-800-369-6671 to learn more about all of their lighting products or call 1-214-616-6180 for international inquires.