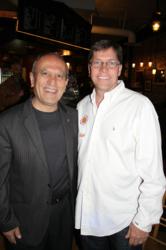 Greg's workshop was fantastic, and Internet marketing is critical to the success of any business
Escondido, California (PRWEB) March 14, 2013
Angel Investors Network (http://www.AngelNetwork.com) announced today it is hosting the Small Business Internet Marketing Workshop (see http://www.SBIMW.com) being held at The California Center For The Arts March 23rd, 2013 from 9am-12pm. The workshop will be conducted by marketing expert Greg Writer and is designed to teach business owners the insider secrets to leverage the Internet to generate web site traffic, leads and customers.
In addition the workshop will cover topics such as: video marketing techniques, search engine optimization, reputation management, cutting advertising expense by 50%, automating online marketing and making sure a local businesses can be found on smart phones and other mobile devices.
Escondido Mayor attended Mr. Writer's workshop over a year ago and was quoted as saying "Greg's workshop was fantastic, and Internet marketing is critical to the success of any business" and is expected to attend the upcoming workshop pending his schedule.
Those businesses that are interest in attending the Internet Marketing Workshop of would like more information can visit the website http://www.SmallBusinessInternetMarketingWorkshop.com or call 760-233-2863 to talk to a Company representative.
About Angel Investors Network: AIN is a group of successful entrepreneurs, investment bankers, angel investors, marketing and management experts, lawyers, and accountants who have built companies in a diverse set of industries who combine their skill and experience to work with entrepreneurs and small businesses to assist them in becoming highly successful ventures. They invest their time, expertise, and money in exchange for equity with the objective to facilitate growth, create jobs and wealth.