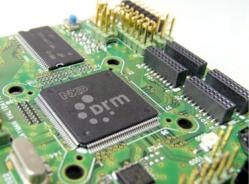 Eindhoven, Netherlands and Bangalore, India (PRWEB) March 14, 2013
NXP Semiconductors N.V. (NASDAQ: NXPI), the world's largest supplier of car infotainment semiconductors, today announced that it has successfully completed live reception of all three major terrestrial digital radio standards – DRM (Digital Radio Mondiale™), DAB and HD Radio – in a car. The live public demo, which took place at the Broadcast Engineering Society (BES EXPO 2013) event in New Delhi, India, ahead of the country's national roll-out of DRM, was achieved using NXP's innovative software-defined multi-standard co-processor for automotive terrestrial digital radio reception.
NXP's R&D center in Bangalore, India played a key role in integrating DRM decoder functionality into the company's automotive terrestrial digital radio solution to create a truly multi-standard chipset that can be used in markets all around the world. It enables manufacturers to achieve significant economies of scale by having just one global hardware platform for the three main terrestrial digital radio standards.
Following a series of comprehensive field trials to ensure the solution met the requirements of the Indian market, NXP's demonstration of live DRM reception in a car at BES confirmed the company's leadership in the automotive digital radio market. The demo was conducted in cooperation with All India Radio (AIR), the national broadcaster of India and operator of one of the largest radio networks in the world. At the event, NXP's DRM demo car generated huge interest and was visited by a number of delegates from government organizations and the automotive industry.
DRM is an innovative digital radio standard currently being implemented in emerging markets such as India, providing FM-comparable or better audio quality on the AM radio band. AM covers over 98% of the population in India, while only 37% of listeners can currently receive the FM signal. DRM significantly improves audio quality at a low cost, while providing additional data services such as traffic updates, natural disaster warnings and news.
Ruxandra Obreja, chairman of the DRM Consortium, welcomed this latest development: "The automotive industry in India, and in the rest of the world, is one of the biggest drivers of the transition from analog to digital radio. NXP's live demonstration of a DRM car receiver at the BES event in January was a giant step in this transition. The work and tests which have been carried out since then by local agencies highlight that DRM in India is a reality and that the auto industry is at the forefront of the Indian digital radio roll-out."
Ashok Chandak, senior director, global sales and marketing for India, NXP Semiconductors, commented: "It's incredibly exciting to have participated in this live DRM demonstration in India, showing that it's possible to achieve high-quality digital radio performance even in AM bands. With this demo, we have become the first semiconductor company to demonstrate digital audio across all three global standards from the same car radio co-processor – a real milestone for NXP. Already, several automotive and car radio manufacturers have shown strong interest in using our DRM solution for future deployment. We're also proud that our R&D center in India has played such a pivotal role in developing this technology. Many millions of people in India who haven't had a chance to receive and experience FM radio quality before will soon be able to enjoy DRM, so it's great to be playing a role in making this happen."
Links

About Digital Radio Mondiale
Digital Radio MondialeTM (DRM) is the universal, openly standardized digital broadcasting system for all broadcasting frequencies below and above 30 MHz, including LW, MW, SW, band I, II (FM band) and band III. DRM provides digital sound quality and the ease-of-use that comes from digital radio, combined with a wealth of enhanced features: Surround Sound, Journaline text information, Slideshow, EPG, and data services. Additional information can be found by visiting http://www.drm.org.
About NXP Semiconductors
NXP Semiconductors N.V. (NASDAQ: NXPI) provides High Performance Mixed Signal and Standard Product solutions that leverage its leading RF, Analog, Power Management, Interface, Security and Digital Processing expertise. These innovations are used in a wide range of automotive, identification, wireless infrastructure, lighting, industrial, mobile, consumer and computing applications. A global semiconductor company with operations in more than 25 countries, NXP posted unaudited revenue of $4.36 billion in 2012. Additional information can be found by visiting http://www.nxp.com.
Forward-looking Statements
This document includes forward-looking statements which include statements regarding NXP's business strategy, financial condition, results of operations and market data, as well as other statements that are not historical facts. By their nature, forward-looking statements are subject to numerous factors, risks and uncertainties that could cause actual outcomes and results to be materially different from those projected. Readers are cautioned not to place undue reliance on these forward-looking statements. Except for any ongoing obligation to disclose material information as required by the United States federal securities laws, NXP does not have any intention or obligation to publicly update or revise any forward-looking statements after NXP distributes this document, whether to reflect any future events or circumstances or otherwise. For a discussion of potential risks and uncertainties, please refer to the risk factors listed in NXP's SEC filings. Copies of NXP's SEC filings are available from the SEC website, http://www.sec.gov.