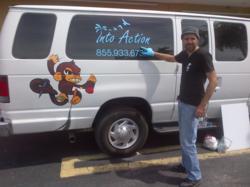 Miami, Florida (PRWEB) March 13, 2013
The Into Action Treatment center transportation van was painted a couple of weeks ago by a famous graffiti artist by the tag name of Krave. Today he came to put his finishing touches on the van, which is used to transport the clients of Into Action to and from the center, 12 Step meetings, the gym, and more. It is a bold statement, having the vans painted like this, but Into Action rehab center, is not your average center. The addiction rehab center is run by Andrey Rossin, who also founded the center a year ago.
"We have a huge focus on the arts and want to encourage our clients to focus on expressing themselves," said Rossin. "We know that most of our clients have repressed themselves throughout the years and we want to change that cycle and welcome healthy and creative new ways of expression into their lives. The vans are a good way of reminding everyone, including the staff to stop and take time to enjoy the simple beauty that is always all around us," remarked Andrey.
Into Action Treatment is located in Boynton Beach, Florida, which is between Miami and West Palm Beach. The center is vibrantly decorated with graffiti art on the back wall and there is a growing line of trees along the back fence line. Into Action's treatment motto is "We Do Recover," which is referring to the recovery that takes places when someone completes the program successfully and recovers from their drug addiction. The center is the only Hyannis format Big Book Step Study drug rehab in the world, which involves going through the steps as they are described in the Big Book, basic text of Alcoholics Anonymous.
The transportation vans at the Into Action Treatment facility have been completely tagged and they are running out of wall space, but I'm sure they will come up with new creative ways to express themselves and the amazing work they are doing in the field of addiction.