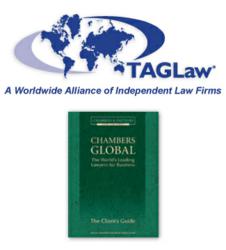 It is only fitting that Chambers has chosen to rank legal networks, since they have substantially impacted the legal marketplace...
St. Petersburg, Florida, USA (PRWEB) March 14, 2013
TAGLaw®, a worldwide alliance of independent law firms, announced that it has been recognized as an "Elite" network in the Chambers Global 2013 rankings guide for legal networks. With over 145 member firms operating out of more than 300 offices in more than 80 countries, TAGLaw is one of more than 30 global legal networks, but one of only six to receive the highest ranking of "Elite" in Chambers Global.
In selecting networks for their Elite award status, Chambers pays particular attention to the quality of the firms in the network and to their global reach. TAGLaw, with its presence in over 80 countries has leading firms in each jurisdiction providing legal services to companies ranging from the Fortune 1000 to local businesses. With experience in more than 20 practice areas and dozens of industries, TAGLaw offers a formidable capability to its member's clients.
"Chambers is one of the premiere rankings guides in the legal industry. We know that it is a valuable resource for in-house counsel, and we have used it in our own research to identify the most qualified members for TAGLaw." Said Robert Sattin, President of TAGLaw. "It is only fitting that Chambers has chosen to rank legal networks, since they have substantially impacted the legal marketplace by offering firms and their clients access to legal services around the world. We are honored to receive this distinguished recognition and feel it is a tribute to the quality of firms who are members of TAGLaw.
(A complete alphabetical listing of TAGLaw's member firms and their jurisdiction is shown below.)
About TAGLaw
Founded in 1998, TAGLaw is an international alliance of high quality, independent law firms. Combined with TIAG, an alliance of independent accounting firms, they provide professional accounting, financial and legal services on a worldwide scale. With approximately 12,500 professionals in over 260 member firms, and more than 450 offices in over 90 countries, the two alliances serve tens of thousands of clients from all industry and commercial sectors. For more information visit http://www.TAGLaw.com or watch our short informational film at http://www.TAGLaw.com/movie.
About Chambers Global
Since 1999, Chambers and Partners has researched the legal markets of over 180 countries, identifying the leading lawyers, law firms and networks worldwide through interviews with thousands of lawyers and their clients. Chambers prestigious reputation is based on the independence and objectivity of our research. For more information on Chambers Global visit, http://www.chambersandpartners.com/global.
TAGLaw Member List (Alphabetical by Location)

Brons & Salas (Argentina)
Concern-Dialog Law Firm (Armenia)
Piper Alderman (New South Wales, Australia)
Carter Newell (Queensland, Australia)
Preslmayr Rechtsanwälte (Austria)
Davis & Co. (Bahamas)
Marx Van Ranst Vermeersch & Partners (MVVP) (Belgium)
Arguelles & Company LLC (Belize)
Xavier Bragança Advogados (Brazil)
Hunte & Co. (British Virgin Islands)
Studio Legale Sutti (Bulgaria)
Abeng Law Firm (Cameroon)
McLeod Law (Alberta, Canada)
Harper Grey LLP (British Columbia, Canada)
Fillmore Riley LLP (Manitoba, Canada)
BoyneClarke LLP (Nova Scotia, Canada)
Blaney McMurtry LLP (Ontario, Canada)
Cain Lamarre Casgrain Wells (Quebec, Canada)
Solomon Harris (Cayman Islands)
Guerrero, Olivos, Novoa y Errázuriz (Chile)
Golden Gate Lawyers (Beijing, China)
Zhong Lun Law Firm (Shanghai, China)
Gómez-Pinzón Zuleta Abogados S.A. (Colombia)
Oller Abogados (Costa Rica)
Studio Legale Sutti (Croatia)
Tassos Papadopoulos & Associates LLC (Cyprus)
Bubnik Myslil & Partners (Czech Republic)
MAQS Law Firm (Denmark)
Headrick Rizik Alvarez & Fernandez (Dominican Republic)
Corral & Rosales (Ecuador)
Guerrero & Guerrero (El Salvador)
Boodle Hatfield (London, England)
Kuit Steinart Levy LLP (Manchester, England)
Clarkslegal LLP (Reading, England)
Blake Lapthorn (Southampton, England)
Aivar Pilv Law Office (Estonia)
Aubyn (Lille, France)
Racine (Paris, France)
RWP Rechtsanwälte (Düsseldorf, Germany)
GGV Grützmacher / Gravert / Viegener (Frankfurt, Germany)
Weiss Walter Fischer-Zernin (Hamburg, Germany)
Rowedder Zimmermann Hass (Mannheim, Germany)
Heiss & Partners (Munich, Germany)
Vainanidis, Economou & Associates Law Firm (Greece)
Quiñones, Ibargüen, Luján & Mata, S.C. (Guatemala)
Bufete Rosa (Honduras)
Vivien Chan & Co. (Hong Kong)
Germus and Partners (Hungary)
JP Attorneys (Iceland)
Kochhar & Co. (New Delhi, India)
LK Shields Solicitors (Ireland)
Kerruish Law & Trust (Isle of Man)
Baratz & Co. (Israel)
Studio Legale Sutti (Italy)
South Toranomon Law Offices (Japan)
Voisin (Jersey)
Mboya Wangongu & Waiyaki Advocates (Kenya)
Hankyul Law Firm (Korea)
Taher Group Law Firm (Kuwait)
Fogels, Vitols and Paipa (Latvia)
Baroudi & Associates (Lebanon)
Balciunas and Grajauskas (Lithuania)
Adam & Bleser (Luxembourg)
Zul Rafique & Partners (Malaysia)
Camilleri Preziosi (Malta)
González Calvillo, S.C. (Mexico)
Popa & Asociatii (Moldova)
Nysingh advocaten-notarissen N.V. (Apeldoorn, Netherlands)
Rassers Advocaten (Breda, Netherlands)
Duncan Cotterill (New Zealand)
Jarquin-Garcia, Attorneys at Law / Abogados & Notarios Publicos (Nicaragua)
Chambers of Godwin Richard (Nigeria)
Elliott Duffy Garrett (Northern Ireland)
Kvale Advokatfirma DA (Norway)
Irfan & Irfan Attorneys at Law (Pakistan)
Galindo, Arias & López (Panama)
Pizarro, Botto & Escobar Abogados (Perú)
Siguion Reyna, Montecillo & Ongsiako Law Offices (Philippines)
SSW Spaczynski, Szczepaniak i Wspolnicy S.K.A. (Poland)
Espanha e Associados, Sociedade de Advogados, RL (Portugal)
Martínez Odell & Calabria (Puerto Rico)
Muşat & Asociaţii (Romania)
Firestone Duncan (Russia)
MAK Law Firm (Saudi Arabia)
Burness Paull & Williamsons LLP (Scotland)
Studio Legale Sutti (Serbia)
Sim Mong Teck & Partners (Singapore)
DEDÁK & Partners, s.r.o. (Slovak Republic)
B. Cremades y Asociados (Spain)
MAQS Law Firm (Sweden)
Hodler Rechtsanwälte (Berne, Switzerland)
Carrard & Associés (Geneva, Switzerland)
Carrard & Associés (Lausanne, Switzerland)
Liang & Partners Law Offices (Taiwan)
Erdem & Erdem (Turkey)
Estudio Bergstein (Uruguay)
Haskell Slaughter Young & Rediker, LLC (Alabama, USA)
Osborn Maledon, P.A. (Arizona, USA)
Williams & Anderson PLC (Arkansas, USA)
Kelley Drye & Warren LLP (District of Columbia, USA)
Mitchell Silberberg & Knupp LLP (Los Angeles, California, USA)
Coblentz, Patch, Duffy & Bass LLP (San Francisco, California, USA)
Lindquist & Vennum (Colorado, USA)
Reid and Riege, P.C. (Connecticut, USA)
Schnader Harrison Segal & Lewis LLP (Delaware, USA)
Berger Singerman LLP (Florida, USA)
Swift, Currie, McGhee & Hiers, LLP (Georgia, USA)
McCorriston Miller Mukai MacKinnon (Hawaii, USA)
Barack Ferrazzano Kirschbaum & Nagelberg LLP (Illinois, USA)
Barrett & McNagny (Fort Wayne, Indiana, USA)
Belin McCormick, P.C. (Iowa, USA)
Martin, Pringle, Oliver, Wallace & Bauer, L.L.P. (Kansas, USA)
Middleton Reutlinger, P.S.C. (Kentucky, USA)
Milling Benson Woodward L.L.P. (Louisiana, USA)
Eaton Peabody (Maine, USA)
Pessin Katz Law, P.A. (Maryland, USA)
Riemer & Braunstein LLP (Massachusetts, USA)
Jaffe, Raitt, Heuer & Weiss, P.C. (Michigan, USA)
Lindquist & Vennum (Minnesota, USA)
Holcomb Dunbar, P.A. (Mississippi, USA)
Spencer Fane Britt & Browne LLP (Missouri, USA)
Lewis and Roca LLP (Nevada, USA)
Cook, Little, Rosenblatt & Manson P.L.L.C. (New Hampshire, USA)
Bressler, Amery & Ross, P.C. (New Jersey, USA)
Lewis and Roca LLP (New Mexico, USA)
Jaeckle Fleischmann & Mugel, LLP (Buffalo, New York, USA)
Herrick, Feinstein LLP (New York, New York, USA)
Williams Mullen (North Carolina, USA)
Kennelly & O'Keeffe (North Dakota, USA)
Brouse McDowell (Akron, Ohio, USA)
Carlile Patchen & Murphy LLP (Columbus, Ohio, USA)
Conner & Winters, LLP (Oklahoma, USA)
Black Helterline LLP (Oregon, USA)
Schnader Harrison Segal & Lewis LLP (Pennsylvania, USA)
Little Bulman Medeiros & Whitney, PC (Rhode Island, USA)
Smith Moore Leatherwood LLP (South Carolina, USA)
Lindquist & Vennum (South Dakota, USA)
Harris Shelton Hanover Walsh, PLLC (Tennessee, USA)
Munsch Hardt Kopf & Harr, P.C. (Dallas, Texas, USA)
Cox Smith Matthews Incorporated (San Antonio, Texas, USA)
Kirton & McConkie, PC (Utah, USA)
Gravel and Shea (Vermont, USA)
Williams Mullen (Virginia, USA)
Ryan, Swanson & Cleveland, PLLC (Washington, USA)
von Briesen & Roper, s.c. (Wisconsin, USA)
Hirst Applegate, LLP (Wyoming, USA)
Travieso Evans Arria Rengel & Paz (Venezuela)
Simeza, Sangwa & Associates Advocates (Zambia)