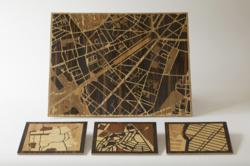 San Francisco, CA (PRWEB) March 15, 2013
Woodcut Maps empowers its customers to design artwork that commemorates a special place and that is as priceless, personal and treasured as the memories themselves. With sale prices for all wall art starting at just $105, now is the perfect time for people to design and stock up on personalized gifts for sentimental occasions like anniversaries, graduations, housewarmings and weddings. Each handcrafted heirloom-quality map is a one-of-a-kind artwork created out of a collaboration between the customer (as designer) and the team at Woodcut Maps (as craftspeople). The fun and intuitive online design tool at http://woodcutmaps.com makes the design process easy. Customers enter an address, choose their favorite wood species, select the size and orientation of the artwork and zoom and pan to get the perfect framing for their map. The team at Woodcut Maps takes over from there with an updated approach to the classic craft of wood marquetry that takes advantage of precision laser cutting. Everything else is done the old-fashioned way, by hand and with love, out of a small studio in San Francisco.
Since launching in March 2012, customers have designed over 48,000 maps of places all around the world using Woodcut Maps' online tool. To celebrate, the company is offering 30% off all wall art purchased through March 31, 2013 at http://woodcutmaps.com. 8"x8" maps are available for $105+ (usually $150), 9"x16" maps are available for $196+ (usually $280+), 16"x20" maps are available for $322+ (usually $460+), and 18"x30" maps are available for $630+ (usually $900+). All maps are hand-initialed by the artisans and ship with hanging hardware and hand-letterpressed ID cards that credit the customer for their design.
Woodcut Maps is also partnering with Fab.com to offer 20% off iPhone 4/4s and iPhone 5 backs featuring over 50 select "house designs" from around the globe. This promotion is available through March 16, 2013 at http://fab.com/sale/18727. Usually priced at just $40, these iPhone backs are an affordable and beautiful way for customers to take a special place with them, wherever their journey takes them.
Every Woodcut Map is made from 100% all-natural hardwood veneers (no dyes or stains), and there are many sustainable options available. Each map is made to order in the USA in a sweatshop-free environment and using materials sourced exclusively from local suppliers. Products are packed and shipped in natural materials that are easy to reuse or recycle. The craftsmanship and materials of the products are guaranteed for 2 years, but are intended to last forever.
###
Woodcut Maps: Designed by You, Made by Us! Founded in 2011 by Gabe Smedresman and Catherine Herdlick, Woodcut Maps makes sentimental products that last and values place, communication, empowering design, the evolution of arts & crafts, and global citizenship.