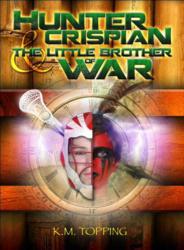 I am honored to participate in a program that both inspires children to read and ignites a passion for the sport of lacrosse.
(PRWEB) March 25, 2013
From March 11th until April 28th, students at five Long Island elementary schools will have the opportunity to win prizes for both reading and essay writing in an exciting new program designed by the New York Lizards Lacrosse Organization.
Author K.M. Topping, who recently published Hunter Crispian & The Little Brother of War an engrossing new novel about time-traveling lacrosse players, was thrilled when the New York Lizards invited her to participate in their Reading and Learning Program. "We are hoping that the prizes will get the kids excited about reading and that by the end of the five weeks, they will discover how much they actually love it," the author explains.
Students in grades K-8 are rewarded for reading done outside their classrooms by logging onto the Lizards website and recording their hours each week. Students in grades 4 and up can compete to win an iPad by writing an essay about Hunter Crispian & The Little Brother of War and uploading it onto the contest website.
All participants will receive a free ticket to the Lizards home-opener against the Boston Cannons on April 28th where they will be recognized for their accomplishments during an on-field ceremony.
"I am so honored to be a part of an initiative that will both inspire children to read and ignite a passion for the sport of lacrosse," Ms. Topping adds.