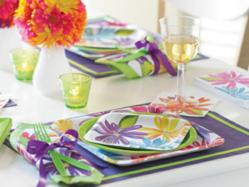 Introducing our new spring party supplies couldn't come at a better time.
Joliet, IL (PRWEB) March 14, 2013
With the start of spring just around the corner, PartyPail introduces its brand new line of springtime and floral party supplies. More than a dozen new themes are available now, including bright floral designs, fun polka dots, and other springtime imagery. This new product category comes on the heels of additions to PartyPail's 1st birthday party, girls' birthday party, boys' birthday party, and adult birthday party offerings.
"When we first started out, the goal was to grow PartyPail into the best online resource for people planning baby showers. While we're still constantly adding new baby shower products and baby shower planning tips to the site, we have started branching out into other party supply categories as well," says Edward Hechter, President. "Now our goal is to become the best online resource for people planning any type of milestone celebration. Introducing our spring party supplies right now couldn't come at a better time."
The Fresh Daisies Easter-inspired theme and Lilac Blossoms party supplies are two of the new spring floral ensembles, both of which can be used for any type of event, or can be purchased with a "Happy Easter" or "Happy Mother's Day" napkin for specific spring celebrations. Spring's two biggest holidays are worth a celebration, but these and other floral-themed ensembles (and garden-themed favors) can be used for any type of milestone event, during springtime or year-round.
"Let us help you celebrate spring's arrival!" says Katie Knight, Marketing Manager. "Whether you're having a birthday, a baby shower, or a garden party just for the fun of it, we're so happy to now offer a line of party supplies taking inspiration specifically from this time of year."
PartyPail is always working to increase its product offerings to customers, and also plans to launch a summer party supplies category of products in time for summer 2013. These summer party supplies will feature barbecue and picnic-themed designs, just in time for beach weather.
About PartyPail:
PartyPail.com is a leading online retailer of baby shower supplies, bridal shower decorations, and party themes for birthdays of all ages. Founded in 2007, PartyPail has seen substantial growth due to a great selection of products, a strong emphasis on quality customer service, and affordable prices. PartyPail is based out of Joliet, IL. Shop at PartyPail.com, or visit our Pinterest page for some great party planning ideas.